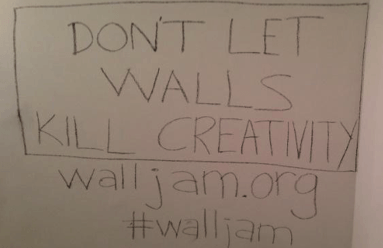 (Victoria, B.C.) As children we are told never to write on the walls. But entrepreneur and creator of The Wall Jam Project Anuj Singhal says that's exactly what we should be doing, and invites people to leave their mark on a Wall Jam, an interactive art installation, at the Victoria Yoga Conference from February 5-7 at the Victoria Conference Centre.
As part of the conference marketplace, the installation will feature a thought-provoking question people can respond to using any artistic expression. A kind of social experiment, The Wall Jam Project involves blank, white walls in an empty gallery. People then use visual representation to share ideas about a given project or venture. "This is the first time we're doing The Wall Jam Project in this format, actually building the walls at an event" says Singhal.
The Wall Jam will be set up in the marketplace portion of the Victoria Yoga Conference. Attendees and market goers are invited to take part in the project during the day to generate conversation throughout the event. "I asked the Victoria Yoga Conference organizers what they wanted people to walk away talking about" says Singhal. As someone who has attended hundreds of conferences, Singhal is always interested in designing platforms that foster creative thinking.
The Wall Jam Project is not only a creative channel, but a platform to foster conversation. The goal is to use art to enable people to engage with a question or topic using creativity. "A lot of people talk about creativity in terms of an outlet – like they have to get something out of their system" says Singhal, "but humans are born creative. I think there are just many environments which are not designed to foster creative thinking."
Singhal is the founder of Intergalleractive Inc., a company that designs educational programs with an innovative approach. He also runs The Blank Tank Gallery in Vancouver's Gastown, voted 'Best Way to Brainstorm' by The Georgia Strait in its collection Best of Vancouver: Arts. With a background in engineering and entrepreneurship, Singhal also lead the entrepreneurship@ubc program at the UBC Vancouver campus.
Singhal believes that when people can connect to a more visceral and visual process, they generate more creative power, and that every person is capable of engaging in art. "There isn't one person who doesn't have creativity in them" says Singhal, "you put them in the right environment and you'll be shocked by what comes out."
To learn more about The Wall Jam Project, visit http://www.walljam.org/
CEO & Creative Director: Anuj Singhal
Phone: (604) 349 0122