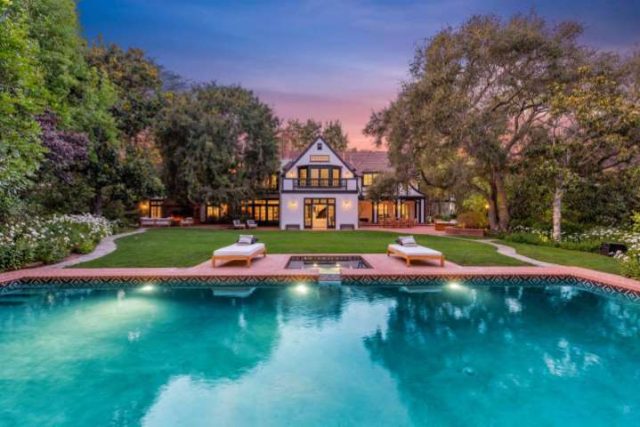 Jennifer Aniston, Mark Wahlberg & Miley Cyrus made real estate news in September. And Ben Affleck got lucky again. Top 10 Celebrity Real Estate News is featured at TopTenRealEstateDeals.com.
September's Top 10 Celebrity Real Estate News
"Mark Wahlberg Bets Big On Las Vegas"
Mark Wahlberg is on his way to Sin City. After putting his LA Beverly Park home on the market for $87.5 million, Mark has purchased a 7,327-square-foot home in the ritzy Las Vegas Summerlin neighborhood for $14.5 million. Mark then spent another $15.6 million for a 2.5 acre lot in the Summit Club, the most exclusive part of Summerlin, where he will likely build a very expensive mega mansion.
"Jennifer Aniston Joins Celebrity Swarm To Montecito"
Jennifer Aniston has joined a surge of other celebrities heading to or already living in Montecito, California. Jennifer just bought one of Oprah's Montecito collection: a four-bedroom home for $14.8 million. Jennifer will be rubbing elbows in Montecito with some of the world's biggest stars and their homes, including Adam Levine, Ellen DeGeneres and Gwyneth Paltrow. Oprah still owns several homes in the area including her main mansion: the 66-acre Promised Land estate and a home she recently bought from Jeff Bridges.
"Adele Lists Her Nicole Richie Home"
A Beverly Hills home that Adele bought in 2021 from her good friend Nicole Richie is for sale at $12 million. Adele has been on a Beverly Hills buying spree in the last few years, including a Sylvester Stallone home she recently purchased for $58 million, where she is currently living. Adele paid Nicole $10 million for the three-bedroom home.
"Miley Makes Big Bucks In Nashville"
Miley Cyrus has sold her 33-acre Tennessee home for $14.5 million. Miley did quite well on the sale of the suburban Nashville home that she bought in 2017 for $5.8 million. The buyer is the world's largest Dairy Queen franchisee with 200 stores.
"Steven Bochco Estate – Sylvester Stallone Former Owner"
One of LA's prettiest homes, the Pacific Palisades home of Steven Bochco, previously owned by Sylvester Stallone, is for sale at $35 million. Bochco was one of TV's most prolific talents as both a writer and producer with shows such as Hill Street Blues, LA Law, Doogie Howser M.D., and NYPD Blue.
"Ben Affleck Gets Lucky Again"
Just a few weeks after his wedding to Jennifer Lopez and three weeks after listing his $30 million, seven-bedroom mansion, Ben Affleck has already sold his Pacific Palisades home. Ben bought the 13,453-square-foot home in 2018 for $19 million, following his split from Jennifer Gardner.
"Henry Mancini's Malibu Beach Retreat"
One of the greatest composers in the history of film, Italian-born Henry Mancini won four Academy Awards and twenty Grammy Awards. In 1972, Mancini purchased a mid-century beach house on Malibu's La Costa Beach. Held by the family for 50 years, the property has been listed for sale at $11.6 million.
"Ellen Sells Montecito Home Flip To Scooter"
Home-flipping-queen Ellen DeGeneres sold a Montecito home she and partner, Portia de Rossi, bought just a few months ago. Ellen and Portia paid $21 million for the 11,947-square-foot home on 2.5 acres, and just sold it to music executive Scooter Braun for $36 million. The home is modeled after the Alhambra palace in Spain.
"Melissa McCarthy Buys In Little Italy"
Although it is not yet a hot spot for celebrity homes, Melissa McCarthy may have started a trend with her purchase of a three-bedroom penthouse in a new building in New York City's Little Italy neighborhood. The asking price for McCarthy's purchase was $7.3 million.
"Leah Remini Lists Studio City Mansion"
King of Queens co-star Leah Remini has listed her longtime LA home for $12.995 million. Leah bought the gated 10,326-square-foot home in 2003 for $3.75 million.