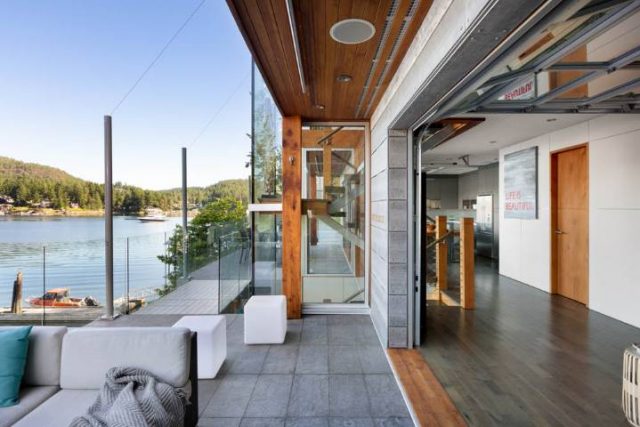 Returning to Canada two years after the last Modern Home Tour, the Modern Architecture + Design Society (MA+DS) is presenting their signature Modern Home Tour in a virtual format. Sponsored and co-presented by Madeleine Design Group and MA+DS, the 2021 Vancouver Modern Home Tour will feature live walkthroughs, using 3D imaging, of some of Vancouver's most interesting modern homes built in the last few years. Discussions and Q&A with the MA+DS hosts and the architects, builders, designers, and homeowners will take place in each segment, giving viewers all the details and background of each project.
"We're really excited to return to Vancouver with our virtual tour this year," says MA+DS founder, James Leasure. "During our in-person events, most visitors would explore each home on their own, and perhaps ask a question on their way out the door. During our virtual events, we explore the homes as a group and discuss the project's story with the people that created it. The event is NOT prerecorded, and it's 100% interactive LIVE with the architects – so it's as close to an in-person tour as we could possibly create!"
Leasure says the 2021 calendar of virtual events is his group's answer to continuing live events in a safe manner until the world can resume large gatherings in-person: "Our virtual tours are fun and educational, and anyone, anywhere, can join from the safety of their own homes this year, until we can safely gather en masse in-home next year."
Leasure also explains further benefits of the MA+DS virtual Vancouver tour: each home's segment will be recorded and made available after the LIVE event. Tourgoers will be able to revisit segments or watch any they missed on tour day and explore many of the 3D scans on their own.
"The added bonus with doing a virtual event is that tourgoers interested in seeing the homes do not have to block a full day off on their schedule," says Leasure. "Likewise, those who live far away don't have to travel. Buying a ticket gets you access to the LIVE streaming event, all the taped segments, and the 3D models. We like to think of this as a LIVE TV show where you have the option to ask the host questions during the show… or you can watch it DVR-style at a later time."
Leasure adds: "In other words, we hope you can join us and watch LIVE and participate in the discussion, but if this is something you'd rather check out in a couple months on a day too cold to go outside, you have that option too!"
Here's what you need to know.
WHAT: 2021 Vancouver Modern Home Tour
WHEN: Saturday, September 25, 2021
WHO: The Modern Architecture + Design Society (host) and Madeleine Design Group (sponsor and participant), plus Synthesis Design Inc., Frits de Vries Architect Ltd. with Marrimor Interiors, Shelter Residential Design with Naikoon Contracting Ltd. … and anyone anywhere in the world who loves this classic style of residential architecture is welcome to be a part of our live event!
WHERE: The virtual tour homes are located in Vancouver, North Vancouver, Madeira Park, and Delta BC.
HOW (does it work?): Tourgoers can buy a ticket at the link below. Only one ticket needed per device. The whole family can watch live and ask questions. All segments and 3D models are available to rewatch later and explore the homes on their own (via the 360˚ imaging). Anyone, anywhere can tune in.