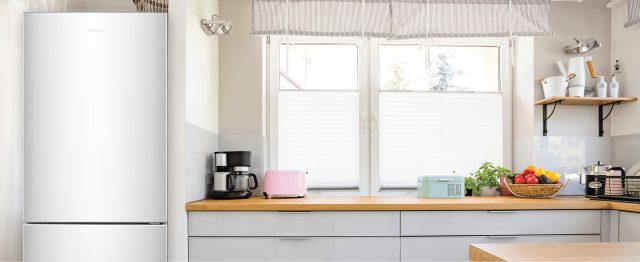 Eventually, we are going to get to a point where people can once again congregate and when that point arrives it is best to be prepared. Having a second fridge around the home helps avoid over-stocking; cramming too much into a refrigerator can hinder its performance and reduce the time it takes before the food stored within begins to spoil.
A second fridge also makes it easy to ensure you have all the drinks you need on hand without taking up the valuable real estate that is keeping your food fresh and preserved. And, adding a fridge that has freezer space gives you lots of room to store the ice that will help keep those drinks cold.
It's amazing the difference an additional 14 to 17 cubic feet of space — about the size of a fridge for a condo or apartment — can make.
A second fridge can be placed all around the home:
The Garage — When the temperatures rise but the weather is inclement, the garage is a great location to set up some chairs and tables and just hang out. Protected from the elements, it's a great space to mount a TV, and putting a fridge keeps cold drinks ready at hand. If you have an attached garage, it is also a great place to stash those items you can't squeeze into your kitchen fridge.
The Basement Rec Room — Whether taking in a movie or binging your favourite show, it is handy to have a fridge in or near your home theatre or games room for quick and easy access to a drink refill or snacks so you don't miss a minute of the action or have to endure unnecessary pauses. A fridge larger than a typical bar fridge also includes a freezer — and that means you can have ice cream nearby!
Home Bar — Standard bar fridges are handy in that they can be hidden under a counter. However, they also have limited capacity. A mid-size fridge not only has more space for beers, coolers, seltzers, wines and your favourite mixes, it also has a freezer where you can make and store ice for mixing up cocktails.
Backyard Entertaining — When hosting a gathering in your yard, keep the party outside with a fridge in the shed or cabana that can be stocked with all matter of snacks, drinks and refreshments.
The Cottage — Maybe not in the home per se, but a mid-size fridge is ideal at the cottage. It doesn't take up a lot of space, so can placed in a shed for easy access to drinks and refreshments when sitting around the fire or hanging out on the dock.
The 14.8-cubic-foot bottom-mount Hisense RB15 is the ideal secondary fridge around the home. Beautifully designed with reversible doors, the RB15 is packed with advanced performance features like a multi-function touch control panel, electronic temperature control and a holiday power-save function. Easy side drawers, adjustable glass shelves and large fruit and vegetable crispers provide unmatched convenience. For more information, please visit hisense-canada.com.