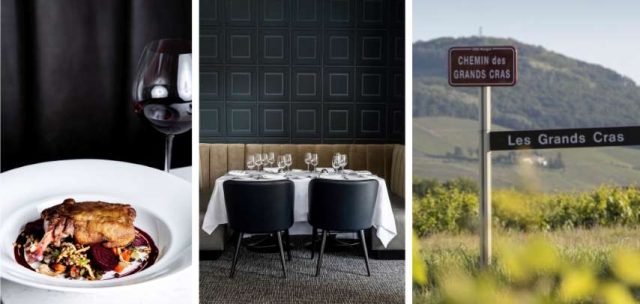 Continuing the team's commitment to offering guests exceptional quality and deep value wines from around the world, The Courtney Room is honoured to announce two unique wine dinners, in partnership with World Wine Synergy.

Celebrating wines from France's Loire, Rhone and Beaujolais regions, two dinners in November will offer guests the opportunity to sample bottles that aren't usually available to the Canadian market and have been specially imported for the occasion.

"With the team's commitment to quality, local ingredients and exceptional levels of service, The Courtney Room was the clear choice for us when bringing these world-renowned wines to Victoria," says Grace Li, president of World Wine Synergy. "We are excited to gather together and enjoy a wonderful evening of delicious food and wine in good company."

Loire & Rhône Valley Wine Dinner with Frédéric Signonneau of Domaine de L'R
Tuesday November 15th, 2022, $175 per guest
Winemaker Frederic Sigonneau and export manager Lucie Goettle will guide guests through the heart of France, including the iconic appellations of Chinon and Chateauneuf-du-Pape, while savouring a carefully paired, five-course menu by Chef Brian Tesolin, celebrating delicious fall flavours from Vancouver Island. Menu highlights include Fraser Valley Duck Tart with sunchoke, chanterelles and spruce paired with Domaine de l'R 2020 Cabernet Franc and Peace River Lamb Loin with parsnip purée, pine mushrooms and pommes anna paired with Domaine Duseigneur's 2018 Catarina Châteauneuf-du-Pape and 2021 Yamakasi.

Beaujolais Wine Dinner
Tuesday November 29th, 2022, $225 per guest
This truly unique dinner will offer guests the opportunity to taste wines from all ten crus of Beaujolais, side-by-side. In the spirit of Beaujonomie, Chef Brian Tesolin will prepare a family-style feast to accompany and complement. Presented in four courses, share plates will include Acadian Smoked Sturgeon; Crispy Duck Confit; Roasted Wild Mushrooms with truffle vinaigrette, chili and lemon; and Chef's selection of desserts.

Both dinners will be compèred by Dr John Volpe, professor Environmental Studies at University of Victoria, who specializes in Eco-gastronomy research in food and wine production.

Ticket prices include tax and gratuity. A special rate of $385 per guest is available for those planning to attend both dinners. To reserve your seat, visit www.thecourtneyroom.com/november-wine-dinners.