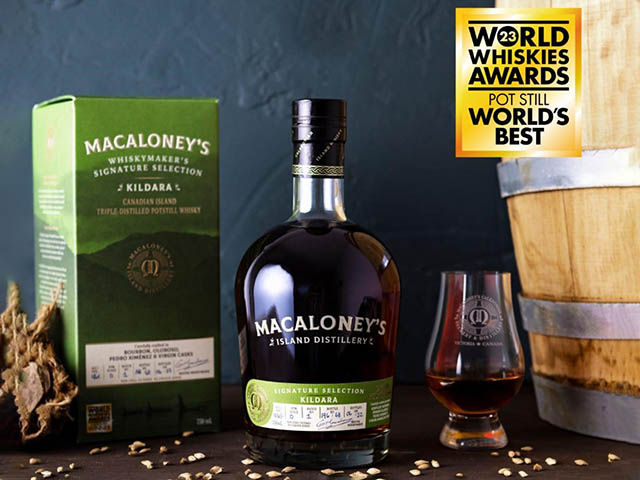 When Graeme Macaloney PhD, President and Whisky Maker at Macaloney's Island Distillery, was invited to London, UK to attend the World Whiskies Awards in person, he thought he might go home with three awards. Instead, he brought home four, including World's Best Pot Still award for one of their flagship whiskies, Kildara Signature Expression. This success demonstrates the reslience of Macaloney Distillers, who recently settled a lawsuit with the Scotch Whisky Association in April 2022.
In addition to the prestigious World's Best award, Macaloney also brought home:
Best Canadian Single Malt, gold medal for its Siol Dugall Signature Expression
Best Canadian Single Cask Malt, gold medal for The Peat Project: Single Cask Portuguese Red wine Barrique with Washington Peat
Best Canadian Pot Still, gold medal for its Kildara Signature Expression
"Winning World's Best Single Pot Still for our Kildara, along with three gold medals for Best Canadian Single Malt, Best Canadian Single Cask Single Malt, and Best Canadian Pot Still was breathtaking" said Macaloney. "With our prior World's Best New-Make & Young Spirit awards in 2019 and 2020 for our peated spirits, we are the first Canadian craft distillery in history to take an unprecedented three World Best gold medals in blind tastings at the prestigious World Whiskies Awards in the UK!"
With their recent wins, Macaloney's has now graduated to join a rare handful of global whisky brands such as Suntory, Red Breast, J.P Wiser, and Johnny Walker. Moreover, they are the only craft distillery in Canada to have won three or more World's Best gold medals.
"None of this would be possible if it weren't for the grassroots crowdfunding support we continue to receive from whisky enthusiasts across the country, the mentorship I received from the late, great Dr. Jim Swan, and the incredibly hard work of all of our staff," commented Macaloney.
Macaloney's Island Distillery's medal haul of 4 gold medals joins two other Victoria and two other Canadian winners from the 2023 World Whiskies Awards, including:
Best Canadian Small Batch Single Malt – Devine Distillery's Glen Saanich in Victoria, BC
Best Canadian New Make & Young Spirit – Anhoka's Heavily Peated Single Malt in Parkland County, Alberta
Best Canadian Rye – Lot 40's Dark Oak in Windsor, Ontario
Best Hotel Bar – Clive's Classic Lounge in Victoria, BC
To learn more about Macaloney's Island Distillery or purchase their award-winning whiskies, visit www.macaloneydistillers.com.