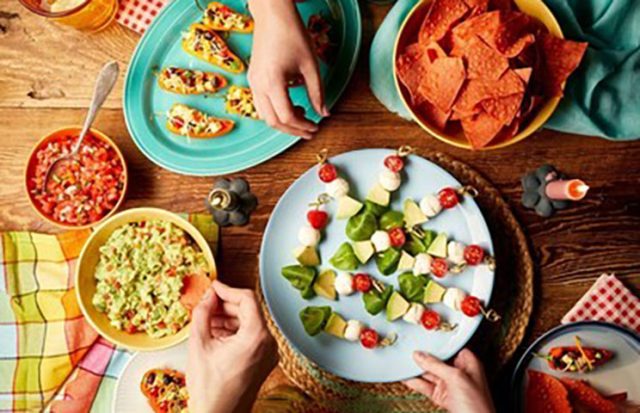 As we all know, avocados are originally from beautiful Mexico and are on the list of superfruits. Their benefits, and nutritional values no longer hold any secrets. Its superpowers allow, among other things, to maintain a balanced cholesterol level and to reduce the risk of cardiovascular diseases, thanks to its excellent source of fiber, vitamins, and minerals. All the more reasons to have creamy and tasty avocados from Mexico a must on any kitchen counter.
In a study conducted in Canada in 2021, nearly a quarter of respondents are giving up on the idea of adding this little green gem to their shopping cart, because they don't know how to pick or prepare it. On top of that, most consumers are running out of inspiration when it comes to cooking avocados. In a salad, in a sandwich or in the everlasting guac, what about the multitude of possibilities that the creamy avocado has in store for us?
Knowing this, Avocados From Mexico decided to come up with the ultimate avoguide for current and future avolovers! From grocery store to table, you'll know all there is to know about avocados!
How to pick an avocado
First, it is necessary to mention that, only in Mexico are there four blooms a year, one for each season, thanks to the generous climate. Simply put, Mexico is the only location in the world where avocados can be grown and exported year-round. Anytime is truly avotime! The choice of the perfect avocado depends on the desired consumption time. If the avocado skin is very green, the avocado will be ripe in a week. If the avocado skin is dark, but firm to the touch, it is not quite ripe and will need two more days. Finally, if the skin of the avocado is dark and yields to a slight pressure, then it is time to enjoy it!
How to ripen an avocado or slow the ripening process
You have a recipe planned for one of your week's menu but your avocado is as hard as its pit? Here's the trick: put the avocado in a paper bag with a banana for three to five days and check its condition daily. If the avocado is slightly soft to the touch, it's ready to be cooked! Is your avocado ripe a little too early in the week? You can slow down the ripening process by keeping it in the refrigerator for up to three days. Gone, the time of avocados that ripen too quickly in the fruit bowl!
How to prep it
First, cut the avocado in half with a chef's knife by cutting along the length of the fruit, from the stalk or narrow part of it, and open it in half. Gently whack the pit with a sharp knife, embedding the blade slightly in the seed and twisting to release it from the flesh. With a spoon, gently remove the skin from the flesh, and you're done. Then, you are the chef! Sliced, cubed, or crushed with a fork, the avocado is delicious in all its forms.
How to cook with avocados
As an excellent source of "good fats", avocado can easily replace fatty culinary bases such as butter in desserts, like in this avocado and pistachio brownies recipe, or mayonnaise in sandwiches and wraps. In the morning, it is your best ally in a vitamin-packed smoothie. For a quick and nutritious snack, a halved avocado and your favourite seasoning will sustain you until the next meal and for salads and pastas, its creamy base is ideal for healthy sauces and dips. Finally, during the BBQ season, grilled with a little olive oil on the fire for three to five minutes is a delight. Not only are avocados easy to incorporate into savoury, sweet or spicy dishes, but they can be baked, fried, grilled, or eaten raw without going out of style. Any reason to eat avocados is a good one!
How to preserve them
A small appetite and half an avocado left? You can slow down its oxidation with a few drops of lemon juice or avocado oil and keep it in the refrigerator for three days, wrapped in cling film. Even better with an avosaver that'll keep the avocado fresh for longer. However, if you don't plan on eating it in the next days, did you know you can freeze avocados? To do so, cut it into cubes, place it in a Ziploc bag, sprinkled with a few drops of lemon juice, and make sure to empty the bag of air before popping it in the freezer. Frozen avocado cubes can be kept for up to six months.