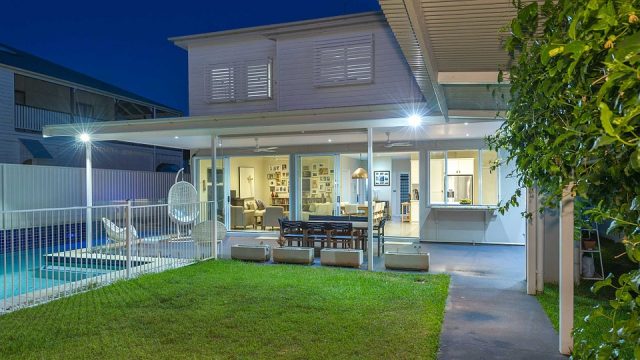 Does it bring you down every time you stare out into your garden? Are you looking for ways to improve your outdoor living space? Our home is our castle and renovating your outdoor area is a great way to improve the value of your home and create a relaxing living space that you can enjoy every day.
If you are struggling for ideas that can make a difference to your backyard, then we have put together this list of eight tips for you to consider in your plans for the perfect backyard.
#1 Deck or Patio?
Choosing the right deck or patio for your outdoor living area is important as it will form the base of your outdoor experience. If you have a ground floor open area and a garden, then consider a stone patio. Patios can be tiled, or laid with slate, there are so many options to choose from, select the style that matched the theme of your home.
A deck is great for those people that want an outdoor area around a pool, or a sundeck on a raised platform to enjoy the late afternoon sunsets.
#2 Surface Selection
Selecting the right surface for your backyard is an important task as well. After the patio or deck, it is the most visually appealing surface in your garden and it covers the most area. The first option for a manicured lawn may not be within your grasp if you do not have a well-lit garden area. In this case, consider using artificial grass to cover your surface. Some artificial grass looks as impressive as the real thing and feels great on bare feet!
#3 Water Features
Selecting the right water feature for your outdoor living area is all about the space you have to work with and your budget. For those that have the room and the budget, consider a koi pond filled with the exotic fish. If you don't have the room or funds for something as extravagant as that, then settle on a few smaller piece that adds to the environment, rather than overpowering it.
#4 Lighting
Your lighting should have three key features; functionality, security, and intimacy. Make sure that you select warm glowing LED lights for your intimate setting. No one like the piercing glow of cool-white light, save that for the security floodlights.
#5 Plants & Flowers
Depending on the size of your garden, you may want to employ a landscaper to help you in selecting the right plants and flowers for your garden. Have the landscaper draw you a garden plan that meets your needs and your budget. If the garden is large, don't forget to ask them about a monthly maintenance contract to keep your garden looking splendid.
#6 Pathways & Flowerbeds
Pathways and flowerbeds create specific borders and lines through the garden. Use slate and flagstone to create exotic flowerbeds and beautiful winding pathways throughout the garden.
#7 Covering your Patio or Deck
If you live in a rainy climate, or somewhere with harsh late afternoon sun, consider a lattice to keep your covered up from the elements. A lattice is an ideal option for someone that's looking for the best of both worlds. A lattice can even be made from durable materials such as Alumawood. These materials have the look and feel of organic wood while providing the strength of aluminum and being a maintenance free option.
#8 Create Privacy
Create privacy for your new garden with some organic wood fences or rail ties from reclaimed wood sources. Keep the prying eyes away from your area and create a secure space that you can relax in
A Final Thought
IF you are not an experienced DIY master, then rather consider hiring professionals to assist you in renovating your outdoor living space. Make sure that you choose to work with companies that have a solid track record and good industry reputation.
Outline your vision and give them your budget, then relax in the comfort of your new outdoor living area and enjoy your days, nights and afternoons in style. Visit https://www.pioneersand.com for more information on fantastic products and the best advice for your outdoor living area.