Ready to hit the slopes? There's still plenty of time to head out to one of the mountains in the state for a day or two of skiing, snowboarding, and other fun winter and spring activities. The 2017/2018 ski season for California runs from winter through early spring. This year, visit at least one of these four ski resorts in the state. Remember to check online or call ahead before leaving to confirm that the lifts are open.
Northstar California
Northstar California has 97 trails and 20 lifts and is one of the top-rated spots for skiing and snowboarding in the state. Beginner, intermediate, and advanced lessons are available for both kids and adults. The resort also offers private lessons and courses through Burton Academy.
When you're ready to hit the trails, you'll find plenty of options for skiers of all skill levels. Most are rated for advanced skiers and snowboarders, but there are no trails for experts. None of the slopes here go past a black diamond, and most are blue square.
Mammoth Mountain Ski Area
Mammoth Mountain Ski Area offers downhill skiing and snowboarding as well as backcountry clinics and tours. Private lessons, adult group lessons, and kids' group lessons are available.
Mammoth Mountain Ski Area offers over 2,000 acres of trails to explore. Most are tailored to intermediate skiers, but you'll also find plenty of options for beginners and experts. In addition to standard trails, this ski area offers kids adventure zones, fun zones, and terrain parks.
Kirkwood Mountain Resort
Kirkwood Mountain Resort is another 2,300+ acre option offering dozens of trails for a range of experience levels. However, you'll find more advanced and expert slopes at Kirkwood compared to what's on offer at Mammoth Mountain.
Lessons for adults and children are available, and you can also learn to ski or snowboard. You can take beginner, intermediate, or advanced courses, making Kirkwood Mountain Resort a good choice to improve your skills regardless of your experience level.
Big Bear Mountain Ski Resort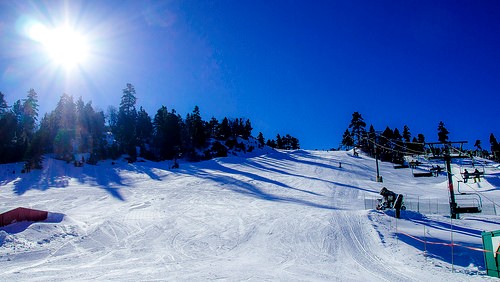 Image via Flickr by Ian D. Keating
Big Bear Mountain Ski Resort offers skiing and snowboarding, among other activities. Hours are based on the operating schedule and weather conditions. You'll also need to check ahead if you're visiting during a peak time or holiday.
This is an excellent destination for any skill level. You'll find dozens of trails across Bear Mountain and Snow Summit ranging from green circle to double black diamond. Lessons are available for beginners, including options for young children, preteens, and teens. You can also fine-tune your skills or practice maneuvers at one of the many terrain parks.
Big Bear Lake is a fantastic ski resort offering luxury accommodations and plenty of trails. You can also book a nearby Big Bear Lake hotel through Hotel Planner to get the best bargains and stretch your budget as far as possible.
California is a wonderland when it comes to skiing and snowboarding. Plan a trip to one of these spots before the season runs out, and look forward to a fun afternoon of slopes and lessons tailored to your skill level.