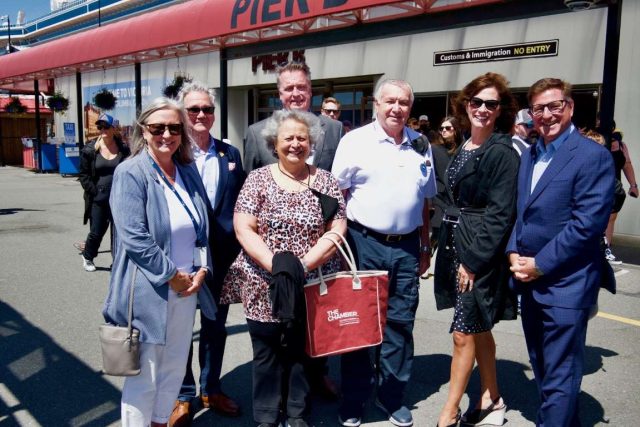 The Greater Victoria Harbour Authority (GVHA) welcomed its nine millionth passenger to the Victoria Cruise Ship Terminal at Ogden Point today, a significant goalpost for the organization as it looks towards the future.
"We started welcoming cruise passengers back to Victoria in April, and with this milestone comes the GVHA's continued commitment to ensure that Victoria is a sustainable cruise destination," GVHA CEO Ian Robertson said. "We feel hopeful about further funding from the provincial and federal governments, but in the meantime shore power continues to be a top priority as is completing design work."
This year, Jesus and Rosa More are sharing the title of nine millionth passenger.
Both Jesus and Rosa More stepped of Royal Princess this afternoon and were presented with a gift card courtesy of the Bay Centre. Industry partners and stakeholders gathered at the port of Victoria to welcome these guests who have sailed more than 200 cruises with Princess.
"Many businesses in Greater Victoria provide services for cruise ships and their passengers, and welcoming the ninth million unique visitor shows how our business leaders has made our region appealing to travellers," Greater Victoria Chamber of Commerce CEO Bruce Williams said. "As travel opens up around the world, we are proud to see Greater Victoria has earned its place as a preferred destination for cruise ships."
The return of cruise will see 331 ship calls bringing in an estimated 790,000 passengers in 2022.
"Nine million passengers is a milestone achievement for the GVHA and the Cruise industry," said Jeff Bray, CEO of the Downtown Victoria Business Association. "Cruise supports our local economy and helps fund the maintenance of our wonderful public amenities on the waterfront, which is critical to the overall look and feel of downtown."
"The nine millionth cruise passenger is a significant development news for Greater Victoria's economic recovery," said Paul Nursey, CEO – Destination Greater Victoria. "Cruise often plays a role as an introduction to a destination. A positive first impression through cruise can create future visits to our beautiful city and region and inspire repeat land-based visitation to our hotels, restaurants, and attractions. Congratulations to the Greater Victoria Harbour Authority on their success in 2022."