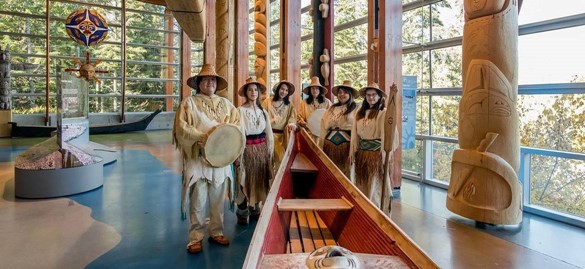 As the holidays get closer and we ponder the unique, thoughtful gifts and experiences we can give our loved ones, we've selected a few experiences and handcrafted items that are both memorable and support local Indigenous communities.
From exhibits and guided walking tours to workshops, there's an activity to enjoy for everyone at the stunning Squamish Lil'wat Cultural Centre. Visitors can learn about B.C.'s rich Indigenous culture through the centre's exhibitions or take part in crafting traditional Indigenous art such as cedar paddle necklaces or hand drum ornaments. With an array of activities, including a cafe to relax and enjoy a meal, along with a gift shop full of unique items, a day trip to spend here with loved ones is well worth it. 
Vancouver's only Indigenous-owned and operated restaurant uses traditional authentic flavours to create wonderful and delicious modern dishes.  Their signature bannock is a staple for every order, along with their Pow Wow Salad – a sensational blend of delicious grains including Ojibway wild rice, cucumbers, radishes, cherry tomatoes, organic greens, arugula with rotating dressing, topped with 4oz of Wild House Smoked Sockeye Salmon. Get a side of cedar jelly to add to the bannock, and a festive meal is set! With dine-in, take-out, and delivery options available, Salmon N' Bannock gives diners several opportunities to explore Indigenous cuisine.
Ainsworth Hot Springs Resort is located in the traditional homelands of the Ktunaxa (pronounced 'K-too-nah-ha') people. Historically, the Ktunaxa people have utilized the local hot spring as a place for healing. After battle, warriors would soak in the spirit waters (nupika wu'u) to ease the wounds sustained in the fight to defend the beautiful territory. 
Those living with other ailments such as arthritis would also soak in the hot pool to relieve their pain. Today, the Lower Kootenay Band offers a unique Hot Springs experience nestled into the mountainside along the shores of Kootenay Lake.