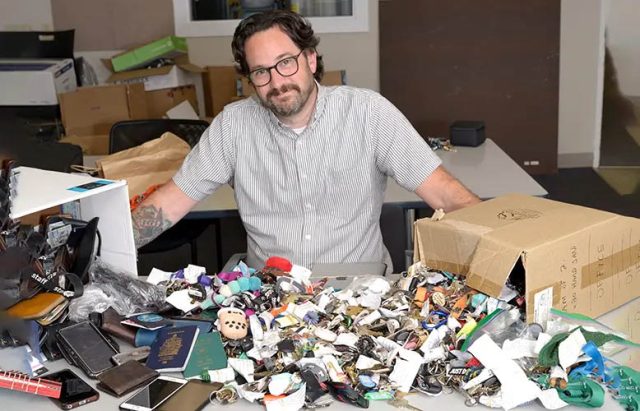 A suitcase full of firewood, a cement mixer, DJ equipment and a glowing Halloween genie head that speaks fortunes are just a few items left in Evos.
Dave Wharf, Evo's senior manager, says that with thousands of Evo trips each day, it's not surprising that a few things get left behind. The team's goal is to reunite them with their rightful owners.
While keys and phones are by far the most common forgotten items, some are a bit more … interesting. Judging by what they leave behind, Evo members are sporty types! Wharf's seen bikes, skis, skateboards, snowboards and climbing and camping equipment left on Evo roof racks. More random items include two cases of champagne, a Christmas tree left on an Evo roof rack, TVs, a microwave, bags of used clothing, a collection of rubber duckies, VHS tapes, and musical instruments (so many musical instruments) including a full drum set and a valuable Fender base guitar.
Lost items are recorded and after a few days the Evo team does its own sleuthing to try and track owners down if no one has reached out to claim the items. Wharf says it's fascinating what items Evo members will call about right away, while other items sit waiting for the Evo team to follow up.
"We get that someone may not care about losing a pair of old mittens or used boots, but valid passports and expensive bikes sometimes go unclaimed – it's a study of human behaviour," he says.
The "Lost in Evo room" in a Burnaby warehouse sees a steady flow of items and heading into summer the Evo team is sharing its process to help make sure that items are returned.
Wharf says they are hoping that people will contact them by email at info@evo.ca, or use Chat on the evo.ca website, or call 1-844-386-2386 to claim their items. To establish ownership, the team can matchup a description of the missing item and where and when it was found with the Member's trip date and details. If the rightful owners can't be found, items get donated to a worthy cause. For example, the DJ equipment went to a Vancouver high school.
The Genie head, left in an Evo on Halloween Night pre-pandemic has yet to find a home and remains in the warehouse. So far, even when turned on, its fortunes have provided no clues to who its rightful owner might be.