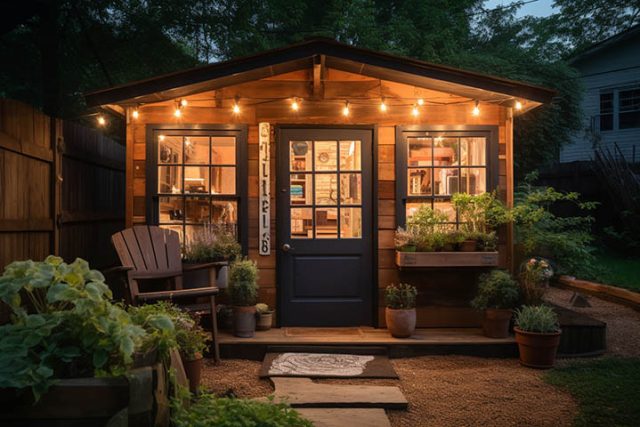 Mancaves have always been a thing, especially gaming mancaves in the backyard! But rising in popularity in recent years are the multi-functional "she sheds".
Put simply, a she shed is any garden shed that's used by women to keep important items, socialize with friends, or spend quality time in alone.
Usually, a she shed is a dedicated space that can be styled and used for any purpose, as long as it's enjoyable to the person using it.
Some popular uses of a she shed include turning it into a gardening room, a summer house, a reading nook, or a games room.
Keep reading to learn how to build a she shed with these fantastic she shed ideas, plus everything else you need to know about styling a she shed.
How to Style a She Shed
Despite a shed being outside of the house, building and renovating the space to make it functional still requires some pre-planning.
For example, a garden shed needs to be insulated before it can be used in winter or during the evenings. Likewise, a gaming she shed must have an electrical supply and other home comforts.
Here's how to build a she shed step-by-step.
1. Define Its Purpose
Before designing a she shed, it's important to define its purpose. Consider what you want to put in the she shed and what you want its main purpose to be.
For example, do you want it to be a reading nook for use in summer? A social space you can enjoy with friends? A gaming room? Or a gardening area to keep your seedlings and tools?
Defining the purpose of a she shed will help you prepare the space properly. For example, by installing flooring, insulation, electricity, suitable entrances, and surrounding features (like a patio or pathway leading to the shed).
2. Equip & Insulate
She sheds need to be equipped with everything you need to make it fit for purpose. It also must be insulated before it can be used in the evenings or during winter.
If plumbing and electricity are required (for a toilet and sink or to power lights and a TV), these need to be fitted behind drywall and under subfloors.
When turning a she shed into a room suitable for use in the evenings or year-round (when the weather is cooler), insulation should be added to the walls and floor.
Entryways and windows should also be planned. Adding French doors with an external patio is preferable for a reading room. Windows are also a great addition if you're planning on using the space as a social summer house.
3. Add Furnishings
The next step in building a she shed is to add the furnishings you need to make your she shed fit for purpose.
For example, in a gaming she shed, you need somewhere comfortable to sit (like a couch or gaming chairs), a side table for drinks, and a stand to keep electronics.
4. Accessorize
Accessorizing a she shed is the most important step in the process. The final touches are what make the space feel inviting and usable.
For example, in a gardening she shed, you can add garden-pun plaques on the walls, shelving units, a potting sink, and tool tidies.
For girls who love gaming, adding memorabilia, posters, and mood lights can set the tone of a gaming she shed.
Other accessories can provide extra storage space and make a she shed feel cozier. For example, by adding a floor rug, an entry mat, wall shelves, curtains/blinds, coasters on the side tables, and pillows on the couch.
What Should I Put in a She Shed? 5 Cute She Shed Ideas
Wondering what to put in a she shed? Here are our top five she shed ideas to get you inspired!
1. Gardening She Shed
For avid gardeners and allotment owners, a gardening she shed is a fab choice. It can be styled with all the accessories you need to maintain your garden. Such she sheds can be styled with tool racks, shelving units, and ample worktop space to enable you to germinate seedlings indoors.
2. Gaming She Shed
For girls who love gaming, you can turn a she shed into the ultimate gaming room. With electricity, insulation, and the right furnishings (like a couch, TV unit, and lighting), it can become a haven away from the house. A gaming room can be made even flashier with LED lights and gaming/movie memorabilia on the walls. With the right setup, you can play even live casino games.
3. Social She Shed
If there's one thing garden sheds are ideal for, it's garden parties! There's nothing better than turning a shed into a social space to enjoy with friends on warm summer nights. A social she shed can be the perfect place to host dinner parties or enjoy a glass of prosecco (or two) with a friend (or two!).
4. Reading Room
Another great she shed idea is to turn your outdoor space into a quiet, peaceful reading room. When designed well, it can be enjoyed on cool days and nights as a room away from the family. Just ensure the shed is well-insulated if you plan on keeping books inside. Otherwise, the cold and moisture can damage the paper.
5. Summer House
Another great idea for a she shed is to turn it into a multi-functional summer house to be enjoyed by everyone. A summer house can be used for all manner of things when the weather is warm. It can be fitted with a bar, a play area for kids, a drinks fridge, a mini kitchen, or just a shaded seating area.
What is a Good Size For a She Shed?
In Canada, a popular size for she sheds is 10 x 12 feet (120 square feet). This offers enough space for furnishings and manoeuvring. Sheds of this size also don't usually broach into permit territories.
Before building a she shed, check local building codes and permit rules in your state.
You should also check with your Community Association to ensure the site and structure meets requirements. You should also ensure there are no rules against building the shed.
Summary
Building a she shed is the perfect way to enjoy your backyard and create space for yourself outside the home. She sheds can be multi-functional (like a reading room, a social room, and a summerhouse all in one). Or they can be a dedicated room for you to live out your passions (like gardening or gaming).