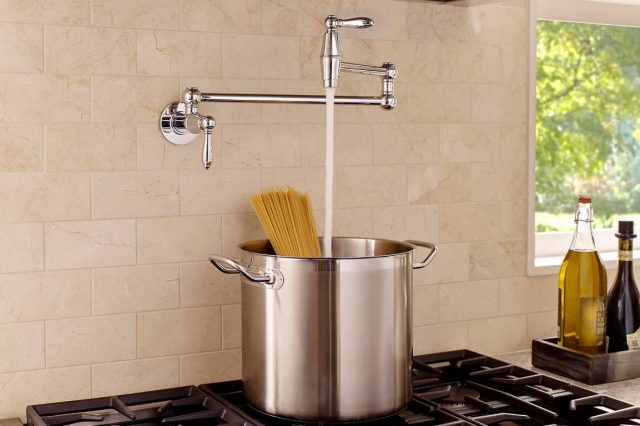 We have entered harvest season, and it is a season that typically means a busy kitchen.
Even with a limited number of people allowed for an indoor gathering, people are still expecting to be roasting a Thanksgiving turkey with all the fixings. And even at a limit of 10 people inside at a time, it can get hectic in the kitchen prepping the appetizers, main course and side dishes.
There may not be an answer for speeding up the cooking process, but there are certainly some hacks you can employ to make things flow a little smoother in the kitchen when preparing your holiday meal.
Make use of small appliances. A slow cooker can be a saviour. Toss in the dish and let it cook with little need to keep checking on it. It will free up space on the stove top, and free up your time to do other things.
Turn water on with a wave of your hand. Whether your hands are full or covered in turkey, make life easier and avoid cross contamination with a hands-free faucet. Preset the water temperature and pressure, and then simply wave your hand in front of the sensor to turn the flow on and off.
Save chopping time. You can spend a lot of time chopping vegetables for side dishes or stuffing. Save some time by either running them through a mandolin for thin slices or julienne, or use a food processor for chopping. But even still …
Sharpen your knives. The most essential kitchen tool is a good, sharp knife. It's an investment worth making in your kitchen, and will make all the difference in the world. Even if you put veggies through the food processor, you will be carving the bird, and you want a sharp edge for that. And a sharp knife is actually safer than a dull knife, which is more likely to not cut into the food and cause an accident.
Stop carrying pots full of water. Pot fillers are standard in commercial kitchens, allowing you to fill pots while they are on the stove and eliminate having to transport them from the sink.
For more information on Pfister Faucets, please visit pfisterfaucets.ca. Stay connected on social media by liking Pfister Faucets on Facebook, following on Twitter @PfisterFaucets and getting some great design ideas on Pinterest.
For more information on Spectrum Brands, please visit spectrumbrands.com.