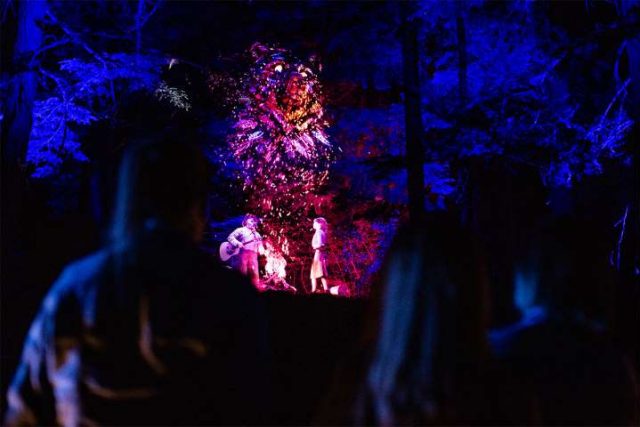 Tonight marks the long-awaited launch of Vallea Lumina's first-ever winter journey, inviting visitors to venture through the woods and step into an evening of ethereal enchantment. Created by global entertainment studio Moment Factory and powered by Whistler's The Adventure Group, this dazzling multisensory experience blurs the lines between reality and fantasy, leaving each guest astonished, enlightened and moved.
The Winter Journey begins with a complimentary shuttle from Whistler Village to the snow-covered forests of Cougar Mountain. Upon arrival, guests embark on a breathtaking journey filled with spine-tickling soundscapes, shimmering lights and delightfully detailed displays. As the captivating story unfolds of two hikers following the legend of a hidden valley where stardust falls from the sky, opportunities abound for participants to engage with the mystical surroundings.
Part of Moment Factory's Lumina Night walk series, the Winter Journey takes place on a newly built trail with little elevation gain or loss, contributing to a magical experience for all ages. Guests are invited to cozy up with warm non-alcoholic beverages and snacks at the base of Cougar Mountain, before entering the woods and commencing their journey. The forest exploration lasts approximately 45 minutes; combined with transportation to and from the venue, guests should allow 1.5 hours for the entire experience. Showtimes begin at sundown and tickets cost $29.99 per adult, and $24.99 per youth.
Vallea Lumina, the Winter Journey launches today, and will have showtimes nightly until April 2020. For more information or to purchase tickets, visit www.vallealumina.com, or call 1.833.800.8480. Click here to vote Vallea Lumina as USA Today's 'best public holiday lights display'.