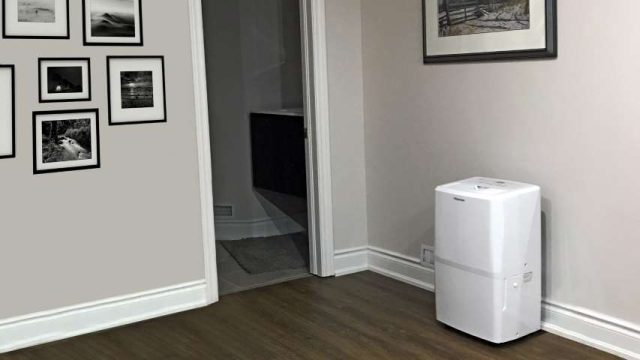 Spring showers, melting snow and cool air temperatures make for damp conditions at this time of year.
Whether the water is falling from the sky in the form of rain, or saturating the ground as the snow banks shrink, there is an inevitable risk that some of that moisture is going to make its way into your home. It may not be a flooded basement — that is an extreme scenario — but you will certainly feel it all around your home. That cool and clammy feeling is not only uncomfortable, left untended it can cause more serious problems over time, like attracting moisture-loving insects or the growth of mold, mildew or fungus.
A dehumidifier is the home appliance designed specifically to keep your home comfortable, dry and safe, yet it doesn't seem to hold the esteem as the marquee home appliances like fridges and stoves. Homeowners need a dehumidifier more than they know, and often don't know how bad they need one until they turn one on and feel the difference.
A dehumidifier in your home will create a pleasant living space (especially for people living with allergies), remove musty odours, control the growth of mildew and mold, reduce condensation, protect furniture and home electronics from moisture and inhibit the growth of dust mites.
And they are versatile, providing benefits around the home:
Finished Basement — The basement rec room or games room is often a popular hangout. But it is also the room most likely to have a musty odour and clammy feel in the air — which can lead to the growth of mold and mildew behind baseboards and walls. Is there a basement bedroom? Getting into a bed that feels damp is icky. Removing that humid air from the room will make for a more comfortable and peaceful night's rest.
Attic — At the other end of the house, the risk of condensation and moisture gathering in the attic is real, and for the many homes where the attic is unused, the threat may not be noticed until it is a real problem. A damp attic can promote the grow of mold and can cause water damage to the structure that is holding your roof up. A dehumidifier can help keep the attic dry and safe.
Kitchen — Between filling the sink with hot water to do the dishes, the dishwasher, the refrigerator and the stove, there is a lot of humidity generated in the kitchen. The kitchen also happens to be a popular gathering spot when company stops by. A dehumidifier will pull all that moisture out of the air to keep it comfortable and dry.
Bathroom — Exhaust fans do great work to prevent the build-up of condensation in a bathroom, especially when enjoying a hot shower. But what if you have a bathroom without a fan? A dehumidifier does the exact same work, will stop fogging of mirrors and prevent the growth of mildew from condensation settling on the walls and ceiling.
Garage — Whether you actually use your garage to park your car, or it is the catch-all for yard equipment or just a general storage space, you want to protect what is stashed in there. Unlike the rest of your home, a garage is not typically insulated from the outside elements, making it a prime candidate for thick, wet air.
A dehumidifier is also a necessity at the summer-home-away-from home. It's nearly cottage-opening season, and anyone who takes that first step inside after a long, unoccupied winter knows it can be quite musty. A dehumidifier quite literally clears the air during cottage opening season.
Hisense has a range of dehumidifiers with capacity to hold between 14 and 33 litres of water and can cover an area up to 1,500 square feet. Find them in store and online at Lowe's,  Rona and Reno Depot.