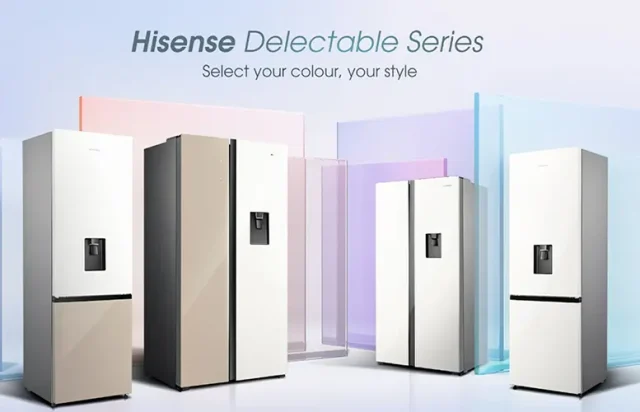 In the world of kitchen appliances, Hisense is ready to make a lasting impression in South Africa with the introduction of the Delectable Series fridges. These extraordinary refrigerators are set to transcend their functional purpose, embracing a unique fusion of artistry and practicality.
The Delectable Series unveils two exceptional models, each embodying a visual masterpiece that seamlessly marries style with usability.
First, there's the Hisense H450BDW-WD (Combi) Refrigerator, a stunning addition to your kitchen:
With a choice of Khaki and White or the timeless Pure White design, this fridge not only preserves your groceries but adds a touch of elegance to your space. Its premium glass door design and minimalist streamlined handle create an understated sophistication that complements modern kitchen aesthetics.
Next, the Hisense H670SDK-WD (Side By Side) Refrigerator:
Available in Khaki and White or Pure White, this refrigerator is designed to be more than just a place to store your groceries. Its ultra-slim water dispenser seamlessly integrates with its elegant design. The frostless technology ensures a hassle-free experience, while soft LED lighting adds to the overall allure. The low noise operation ensures a serene environment in your kitchen, and the spacious interior offers plenty of storage.
The Delectable Series elevates the refrigerator from a mere kitchen appliance to a statement of style and sophistication. These refrigerators redefine the concept of both functionality and style. It's all in the details, from the effortlessly streamlined handles that seamlessly blend into the design to the subtle charcoal-coloured water dispensers that add a touch of grace while delivering crisp, cold water. Hisense's careful choice of materials and finishes ensures a polished and elegant appearance that effortlessly complements your home.
The Delectable Series embodies Hisense's belief that a refrigerator should be more than just a box to keep your groceries. It should be an extension of your taste and style, a work of art in its own right. Whether you opt for the H450BDW-WD or the H670SDK-WD, you are not just selecting a kitchen appliance; you are choosing to bring art and functionality into your home. The Hisense Delectable Series Fridges redefine the essence of beauty and utility in your kitchen. Experience the perfect blend of elegance and practicality with Hisense.