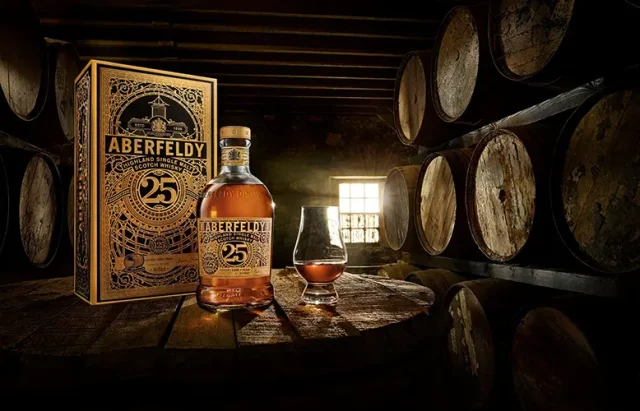 ABERFELDY® Single Malt Scotch Whisky has bottled a limited edition 25 Year Old expression in an exclusive collector's pack to mark 125 years of whisky making at its eponymous distillery. In celebration of this significant milestone, the brand known affectionately as "the golden dram" has also partnered with renowned jeweler Nigel O'Reilly to create a line of jewelry for men and women, inspired by ABERFELDY's rich history, available for purchase alongside the 25 Year Old whisky.
Since 1898, ABERFELDY has been quietly crafting excellence in taste and quality in the heart of Scotland, where Perthshire's tallest mountain, deepest loch, and longest glen meet. The distillery was founded by John Alexander Dewar, whose work led him to become one of the first so-called 'Whisky Barons', a group of pioneers who laid down the cornerstone of the Scotch whisky world as we know it today.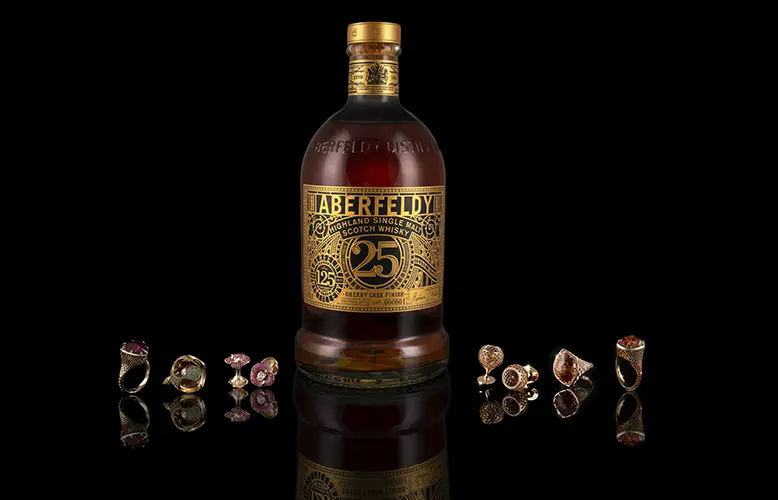 The 25 Year Old limited edition, in a commemorative pack, celebrates the distillery's rich heritage, with a whisky matured for over two decades in a combination of re-fill hogsheads and refill butts, and finished for over a year in first-fill Oloroso Sherry casks. Luxuriously succulent, with notes of Highland honey, wild strawberries and ripe peaches warmed by the sun. On the palate, delicate fruit rests on a malty, cereal base, with a hint of vanilla coffee and a long satisfying finish. The 25 year old expression has an ABV of 46%, is non-chill filtered and has no color added.
Five-time International Whisky Competition 'Master Blender of the Year' and ABERFELDY Malt Master, Stephanie Macleod commented: "The walls of our charming distillery are steeped in history and heritage, standing testament to a tradition of whisky making stretching back over generations. Together with the distillery team led by Distillery Manager, John MacKenzie, and the team of talented Blenders, we have the honor of balancing past, present and future in every bottle of ABERFELDY to create the consistent premium quality and taste people enjoy around the world. ABERFELDY is truly at the heart of Scotland and, as soon as you arrive, it's easy to see why John Alexander Dewar chose this area to build his first and only distillery."
Over the span of its 125 year history, the ABERFELDY distillery has consistently produced the highest quality Single Malt whisky, setting the gold standard for the category. In celebration of this, the brand has partnered with master goldsmith and high jewelry designer, Nigel O'Reilly, to create one-of-a-kind gold bespoke pieces inspired by the distillery. The ABERFELDY Highland Honeycomb Ring – inspired by the ABERFELDY water source and surrounding environment – and The ABERFELDY Pitilie Burn Cufflinks – evocative of whisky poured into a rocks glass – are available alongside five additional pieces Nigel has selected from his works as The ABERFELDY Collection.
"When crafting my pieces, I find inspiration in the beautiful landscape of the Scottish Highlands and the brilliant character of naturally sourced precious stones gilded in gold – two elements ABERFELDY has in spades," said O'Reilly. "When designing the Highland Honeycomb Ring and Pitilie Burn Cufflinks, as well as selecting additional items from my line to fall under the ABERFELDY Collection, I utilized gold, citrine and intricate detailing to evoke the golden liquid and the beautiful place in which it's produced."