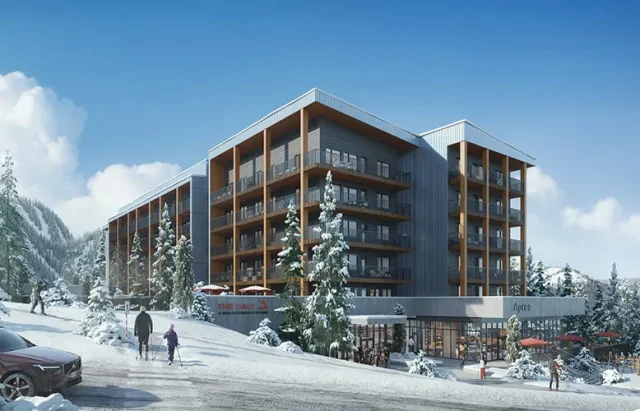 Red Mountain Ventures Limited Partnership (RMVLP) has collaborated with Vancouver developers David and Christopher Evans to launch RED Mountain Homes, a collection of neighbourhoods at and around the base of RED Mountain Resort (RED). 
Born of a deep shared commitment to the spirit of RED and Rossland, RED Mountain Homes will grow from the essence of four seasons of mountain culture, soaring alpine landscape, and proud Kootenay culture. All RED Mountain Homes will be designed for adventure families and friends, providing access to walkable streets and easy year-round access to RED's lifts, trails, and the incredible natural recreational assets the Kootenays are known for.
This season, following the sell-out success of The Crescent in 2022, RED Mountain Homes will release two neighbourhoods: The Daly and The Glades. The Daly carries on the celebration of Rossland women in sports and is named after the benefactor of the Crescents, the Rossland Ladies' Hockey team that remained undefeated for 18 years from 1900 until 1918. Without Mrs. Daly, this group of women could not have laid the path that would follow for women and girls in sports in British Columbia.
Designed by Yamamoto Architects with both common and residential interiors curated by Vancouver's Ste. Marie Studio, The Daly's six-storey building responds to the demand for larger alpine homes at the base of RED Mountain, with one-, two-, and three-bedroom homes. It will also offer homeowners a collection of year-round indoor and outdoor amenities, including a gym and movement studio, dry sauna, a pool, hot tub, and a BBQ grill deck with a fire pit.
The Glades; the second neighbourhood coming to market, sees its name celebrate the famous tree skiing found at RED Mountain. The neighbourhood of three-, four- and five-bedroom side-by-side townhomes is tucked into the trees, a short walk from the RED Mountain base, with a ski-in trail off the Lower War Eagle run.
"Our investment group acquired the resort in 2004, and since then, we have operated independently, without partners," says Howard Katkov, Chairman and CEO of RMVLP, the owning entity of RED Mountain Resort. "When I met David and Chris Evans, I immediately felt confident that their vast real estate development experience, combined with the love of the alpine that they share with their families, was a perfect fit for our RED Mountain family. We have entered into two development partnerships this season that will lay out the framework for future partnerships at RED under the RED Mountain Homes umbrella."
Much like Katkov, mountain adventure is imperative to David and Christopher Evans, who grew up in a resort real estate family, and have 45 years of combined residential, commercial, and hospitality real estate development experience in Canada and the U.S. Upon visiting RED during the U14 Freeride Competition with David's son, they instantly recognized something special. "I was amazed to find a top 10 North America mountain resort with an old-school spirit," said David Evans. "The skiing is epic, the people are warm and inviting, and it seemed almost trapped in time. When we met Howard, we knew the opportunity was one in a million."
Like all neighbourhoods by RED Mountain Homes, The Daly and The Glades offer flexible ownership avenues. Homeowners will have the choice to be full-time or part-time residents, and when not in residence, they will have the option to participate in a variety of nightly rental programs.
A partnership established in 2020 between Alterra Mountain Company and RED Mountain Resort means future residents of the area who purchase an Ikon Pass will have access to more than 40 ski destinations around the world in addition to the 3,850 acres of terrain at RED. 
Homes in The Daly will start in the low CAD $500,000s for one-bedrooms and in the high CAD $600,000s for two-bedrooms. The Glades townhomes will start at approximately CAD $900,000.  For more information, visit redmountainhomes.ca.