Introducing FEATHR's exciting new collaboration with British artist Jessica Wilde. Working with FEATHR, Wilde has created seven progressive wall coverings inspired by 'biophilia' – how we evolved as part of our natural environment and thus humans innate need to connect with nature.
Wilde's conceptual designs take inspiration from the flora and fauna of the ecosphere in which we inhabit. Both the subject and the colour palette of her designs are intrinsically linked to the natural world, which by its very essence, enhances one's home and workspace environment. Wilde firmy believes introducing a biophilic wall mural design is a way of seamlessly incorporating nature into our interiors to both promote and enhance our wellbeing.
The new FEATHR x Jessica Wilde collection is available exclusively at www.feathr.com.
Tempestas Dark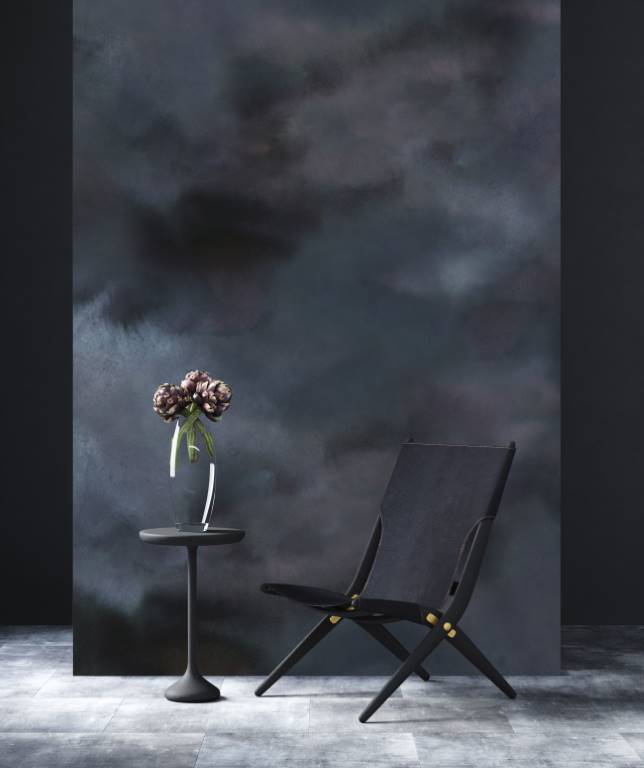 Wilde's desire to express the environment in which we inhabit draws her to subjects both earthly and celestial. Tempetas Dark is the first of two stunning wall murals ascending us skywards, drawing us towards its inky twilight depths. Mottled hues of pewter and silvered grey ombre together to depict the night sky and plunge us into its hypnotic depths.
Wilde reflects on her need to push herself artistically when creating: "my style is quite varied and experimental, I love combining different mediums and pushing ideas and techniques as much as I can." Tempestas Dark will elevate any room from the mundane to the sublime with its dramatic tone. 
Find out more about Tempestas Dark.
Jupiter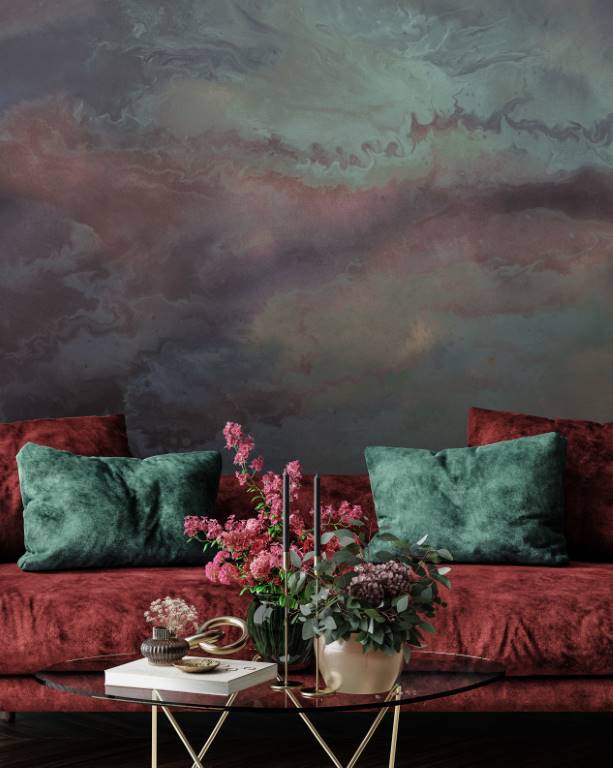 The Jupiter wall mural reaches deeper into nature to take inspiration from the planets. Wilde created this stunning watercolour wall mural by fusing shades of cerulean and graphite with byzantium that harmonise seamlessly together.
"Although green is the obvious biophilic colour, I don't think you need to be limited to it," Wilde comments. "The natural world offers a diverse spectrum of colours inspired by a range of landscapes and seasons. As well as taking inspiration from warmer climates, I love the changing seasons we have in the UK and I think you can take inspiration from all facets of nature and create both vibrant and energetic lush green and serene calm. Biophilia can be so much more than the colour green, there's so many more ways you can embrace nature." This statement mural is the perfect blend of abstract expression combined with a harmonious colour palette.
Find out more about Jupiter.
Floral Meadow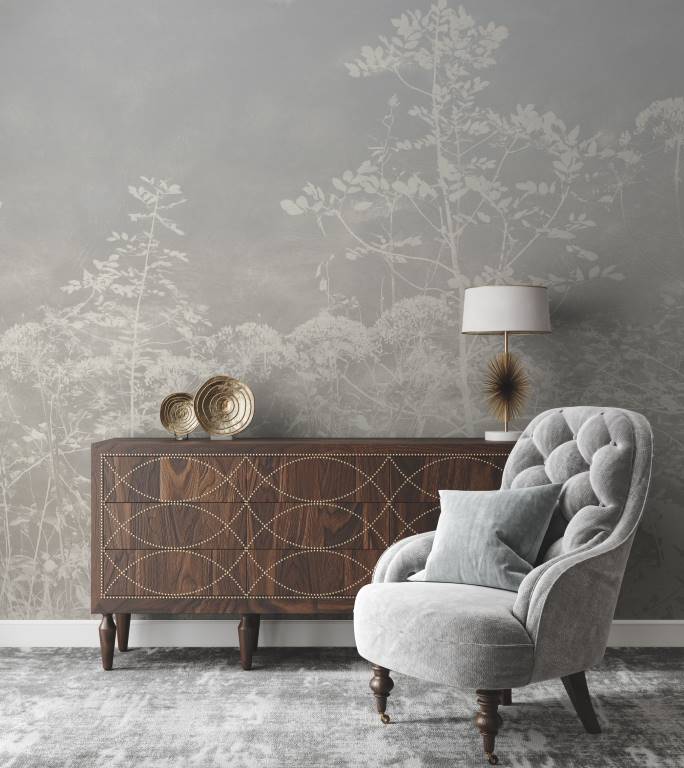 Floral Meadow cleverly communicates its message of natural beauty by fusing together a soft mottled background in oyster gray with a fauna motif transposed in an almost negative relief. Oversized vegetation reaches out skywards as the tendrils extend upwards.
Wilde uses vedure as inspiration when creating her artwork. "My process is quite varied and experimental, but I always start with nature photography. I then use these as references for drawing or use them directly by manipulating them digitally". Floral Meadow will bring a delicate touch of botanics to an interior, subtly bringing all the benefits of biophilic principles into your home. 
Find out more about Floral Meadow.
Dahlia Blossom Dark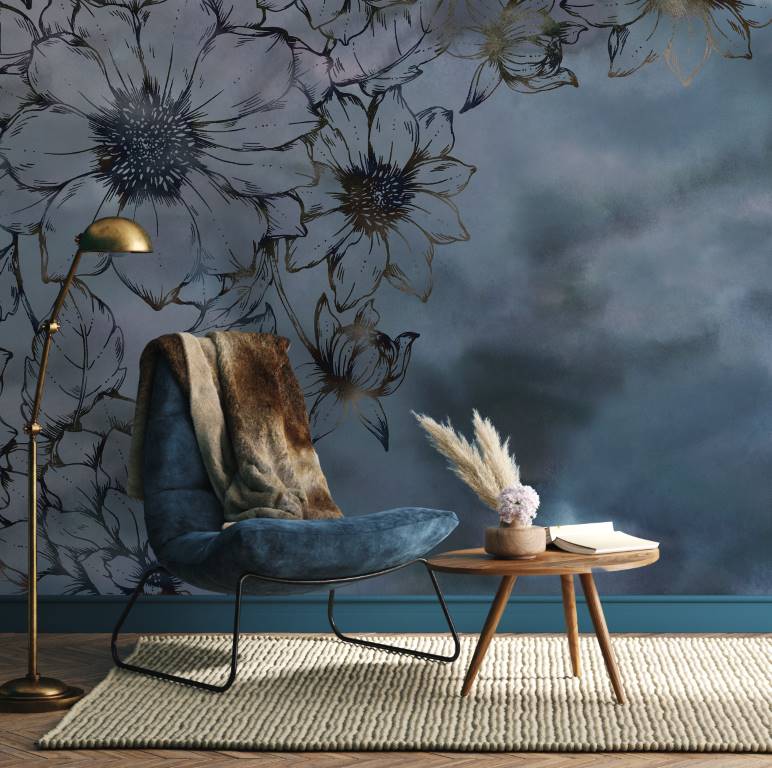 Dahlia Blossom is a story of contrasts.  Its background is an expression of painterly abstract sky in striking tones of nighttime blue mottled with grey. In contrast, the foreground and very feel of this wall mural is dramatized by the oversize floral blooms in pencil lines. 
These delicate illustrations pick out the fine detail of each bloom as they sit against the atmospheric background. Wilde believes such a striking contrast can be the  essence of artistic expression when decorating a space – "I like to design for impact and wallpaper is perfect for that. You get to transform a space which is really exciting from a design point of view".
Find out more about Dahlia Blossom Dark.
Verbena Monochrome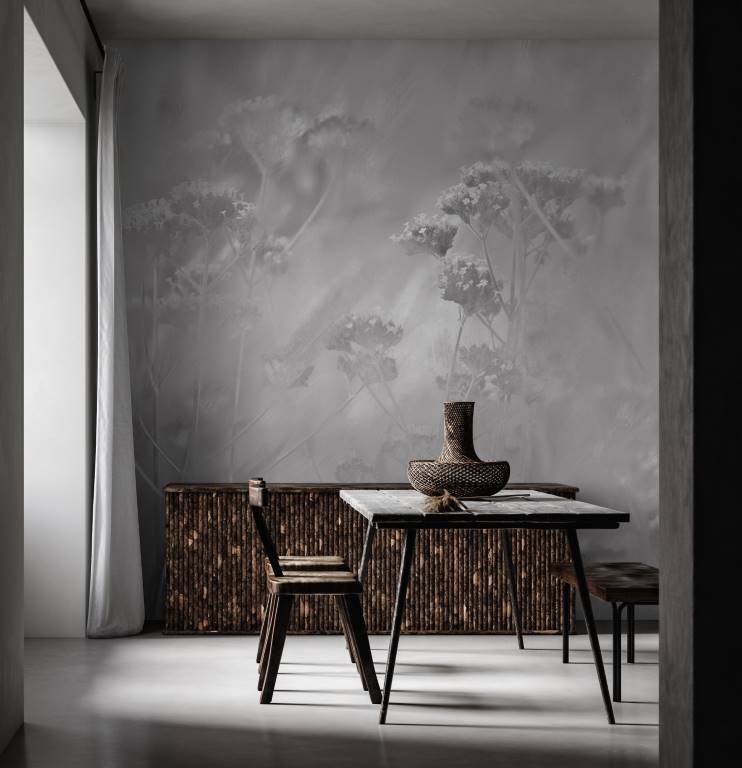 The Verbena Monochrome wall mural lends an ethereal timeless feel to an interior. Delicate silver grey blooms wend their way gently upwards, melding, blending and then fading gently into the background. The intriguing play of color and form plays a spatial game, visually pulling forward the botanics towards the viewer.
Even such a subtle presence of foliage in one's home has a large impact, believes Wilde. "Even small changes to maximise nature in your life can make a big difference. Whether it's a full design scheme or just the addition of a house plant, hopefully an awareness and appreciation of biophilia can boost your wellbeing in some way." Verbena Monochrome is the perfect statement piece that can fit seamlessly into many interior decor schemes, bringing stunning visual impact without overwhelming a space. 
Find out more about Verbena Monochrome.