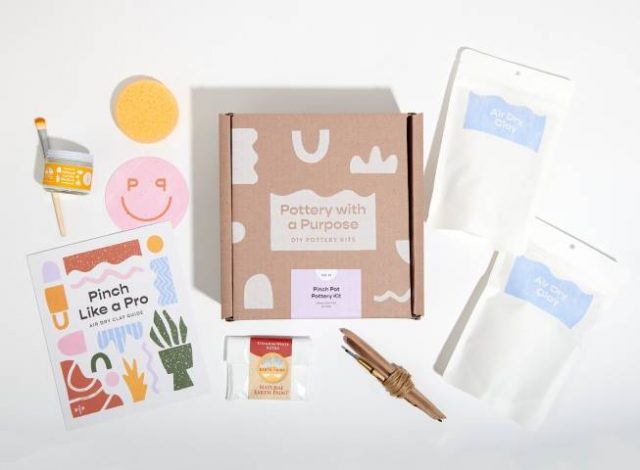 DIY Lifestyle Expert Samantha Hoff, creator and founder of Pottery with a Purpose™, promoting individual and community well-being through a thoughtfully curated line of eco-conscious adult clay sculpting kits that invite creativity and mindfulness anytime, anywhere – all while giving back to mental health initiatives (launching April 2021). 
A lifelong struggle with anxiety and an early career spent in the fast-paced tech world led Hoff to seek emotional and mental balance in the grounding practice of yoga and tuning into hobbies of DIY and pottery making as a creative outlet that offered similar anxiety relief.
Not only does DIY crafts boost your mental health but they get your creative juices flowing. Spring is the perfect time to venture out and do some pretty cool things with what you have at home.
Hoff has the best DIY secrets most of us would never think of and would love to share a few with your audience!
Hate those tangled necklaces? String them in a reusable straw to keep them from tangling when you are on the move.
More plant nutrients with some home cookin. After boiling eggs, let the water cool to room temp and then use it to water the garden. You can also crush the shells and add them to the potting soil. This adds some calcium, which plants love, to the soil, and keeps the water/shells from going to waste. 
Secrets to Homemade broth. Keep veggie and herb scraps (peelings, leaves, stalks, veggies about to go bad) to make homemade broth…store veggie scraps in a freezer friendly container or bag, avoid putting in cruciferous veggies and starchy veggies
From Kitchen to tie dye. Keep food scraps to do natural tie dye ie: Yellow onion skins- orange-ish yellow, Turmeric- yellow, Avocado skins/pit- peachy pink.
Save your glass jars and their lids: crafts, organizing hair accessories, storing food instead of tupperware, bottling your own sauces/condiments, diy candles (metal tea tins also look cool for diy candles)
Regrow green onions…keep the white part with roots attached, put them in a container w/ some water, leave them in a sunny spot, watch them grow, use to cook
Tree stumps for the win! Ask neighbors for tree stumps during spring yard cleaning, store them somewhere for 6 months to a year until dry, use them to make a table or seat. After drying, you need to take the bark off, sand them, use a blowtorch to clean.
DIY Pottery. Use a plastic egg carton as a pottery mold to make your own reusable, ceramic egg holder…don't eat eggs/have a plastic carton? Hit up your local "Buy Nothing Group" on Facebook. Keep plastic takeout containers you've accumulated during covid and use them to store pottery between sessions