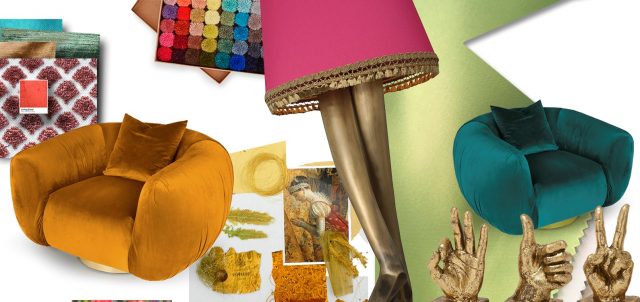 As Spring arrives, bringing with it the sunshine, flowers and many of the greater things in the world, we could not happier to share the Spring trends of 2019! With stunning warm and vivid colors, smooth textures and gold feelings, this is the interior design guide you have been waiting for! These Spring trends will create unique environments and inspire the design world to a higher level. The Spring 2019 empowering colors reflect our desire to face the future with confidence and a high spirit, and inspire amazing pieces that lend themselves to art and uniqueness. Gold, colors and velvet are our Spring Feelings for 2019!
Velvet adds drama and depth to any room. It is easily adaptable and adds sophistication, being a year-round favorite. This fabric elevates the look of any room regardless of the season but can be especially attractive for Spring looks. It is a finish that matches well with bold or neutrals colors, depending on the look and mood of the space. Regardless of the tone, velvet can add flair to a social ambiance such as a modern dining room. In particular, rich upholstery materials like velvet are a great addition to brass dominant pieces. Such color and material mix will lend magical feeling to your dinners and parties!
Gold is here to stay! Gold continues to be trendy this Spring, however, it will increasingly be contrasted with noble materials and bold colors. This goes hand in hand with the seasonal change – it's all about the colors. We are finally moving away from the autumnal palette of greys and browns and putting blue and gold under the limelight. These light colors will bring a fresh feeling to your décor while respecting the elegance and sheen of velvet.
CATALOGUE & PRICE: REQUEST