Now available, the British lighting manufacturer has released four brand new, slip-cast bone china lighting fixtures. Combining centuries-old manufacturing techniques with the latest in technology, the new lights are handcrafted at Original BTC's Stoke-on-Trent factory. The September launches are diverse in form and function – included are one architectural chandelier, one flush mount ceiling light, one pendant, and one wall light.
Original BTC pays homage to its Oxfordshire roots with the Oxford Double Chandelier and Oxford Double Wall Light, both extensions of the beloved Oxford collection. Illustrating the brand's commitment to pushing bone china to its absolute limits, the Oxford lights are composed of a duo of beautifully touchable quilted shades, complemented by brass detailing. The effect is even greater with the new Oxford Double Chandelier, which features six of the signature double shades. The Oxford Double Wall Light consists of just one double shade, emitting soft, moody lighting against the wall on which it is installed.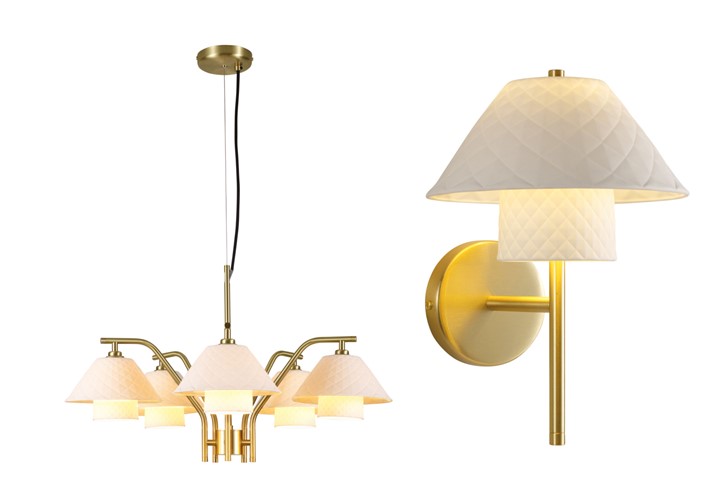 The Pebble line consists of a pendant and flush mount ceiling light, both of which serve as beautifully organic statement pieces. The Pebble Pendant features 48 pebble-inspired ceramic forms in three different designs, secured to a central steel frame to create a layered cocoon shape. Each pebble is designed and 3D resin printed at Original BTC's design facility in Witney, then production continues at the British manufacturer's heritage bone china factory. The printed patterns are used to create direct castings molds, into which slip – or liquid clay – is poured. Once set, the molds are split and the pebble forms are removed and left overnight to dry before being sponged and settled to remove any imperfections. Finally, the pebble shapes are biscuit fired to achieve the perfect matte textured surface.