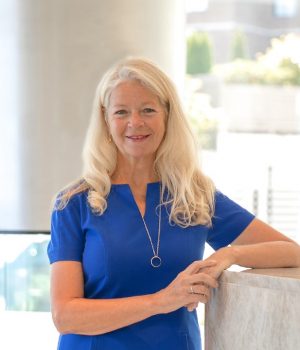 Inn at Laurel Point welcomes general manager Eda Koot to lead its distinguished team. With over 20 years of experience in the hospitality industry, Koot brings a team-focused and results-driven leadership style to the celebrated Victoria hotel.
Koot is honoured to carry on the legacy of founders, Paul and Artie Arsens, and the incredible work of Reverend Canon Ian Powell, who has been the general manager of Inn at Laurel Point since 2006. Powell, winner of the 2019 BC Hotel Association's Hotelier of the Year Award, has long been a mentor of Koot's, hiring her early on in her career. Stepping into his shoes brings this journey full circle.
"Inn at Laurel Point is leading the charge towards a sustainable future" says Koot. "We're collaborating with non-profits like One Tree Planted and earlier this year, the property was the first hotel in North America to sign onto The Climate Pledge. As we head into an exciting new chapter after the pandemic, I'm looking forward to continuing to showcase the property's commitment to the community and to sustainability."
Koot began her hospitality career with Delta Hotels in Calgary, along with several years at Fairmont Hotels and Resorts, Calgary before accepting a general manager position at Delta Red Deer Hotel in Alberta. She then moved to British Columbia, working as the general manager at Delta Hotels in Victoria, Whistler, Sun Peaks and the Lower Mainland. During her time at Delta Sun Peaks Hotel & Resort, Koot helped create a year-round destination by growing summer offerings at the property, as well as in the village itself. Most recently, as general manager of Pacific Gateway Hotel at Vancouver Airport, she successfully oversaw the hotel's transition from being part of the Delta brand, to an independent hotel, while achieving the property's highest ever top line revenue growth. During her time there, Pacific Gateway received many accolades, including the Hotel Association of Canada's Environment Award.
"We are so pleased to welcome Eda to the team," says Brooke Harris, director of sales and marketing. "With her skills, experience and commitment to carry on the Arsens' legacy, Eda is the perfect fit to guide us into the recovery phase of the pandemic and beyond."
The travel industry now enters a renewal phase, which coincides with recent renovations at the property. In 2020, Inn at Laurel Point debuted a large-scale, multi-million-dollar ground floor renewal, originally conceived in 1987, when owners Paul and Artie Arsens asked their friend Arthur Erickson to design a second hotel wing (now called the Erickson Wing). He agreed, and Inn at Laurel Point became the first and only hotel in Erickson's portfolio.
Thirty years later, their vision was completed with the help of John Graham of Graham Sherwin Studio, who worked with Erickson on the original project. With the completely transformed lobby, entranceway, meeting spaces, outdoor garden area, and Aura Waterfront Restaurant + Patio, under Koot's new leadership, Inn at Laurel Point is perfectly positioned to welcome guests to an exciting new chapter.
For more information or to book a stay, visit www.laurelpoint.com.