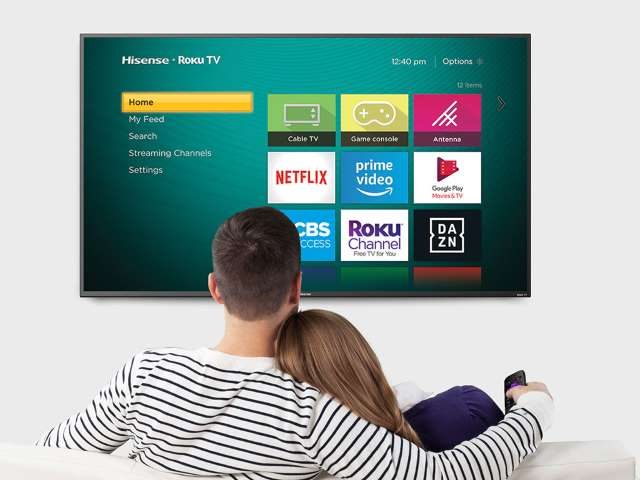 There was a time not too long ago when all you really had to worry about was whether you wanted a big, heavy projection TV with a large screen, or a big, heavy cabinet TV with a cathode ray tube for the screen. Sure, there were smaller models, but they were also pretty heavy for their size, and with the CRT screen, pretty much all the same in terms of the quality of picture and sound you were going to get.
It is nothing like that anymore.
In any home electronics or big box store, you can be faced with a literal wall of options, in varying sizes with different projection methods and speeds and colour palettes … it can be confusing for the uninitiated. To help make it easier for shoppers to pick the right TV for their viewing habits, Hisense is offering this glossary of terms to describe the different capabilities of today's televisions.
Quantum Dot — These are semiconductor nanocrystals that produce pure red, green and blue lights, supporting a TV display that is brighter, with sharper contrasts and more than a billion colours. You may also see this referred to as a QLED TV.
ULED —Ultra Light Emitting Diode is Hisense's proprietary technology that evolves the basic LCD TV to one that provides greater contrasts — it can create deep blacks and brighter colours for better contrast, lest "bleeding" or blurring of colours and faster, smoother action on the screen. A ULED TV is ideal for watching sports or playing video games.
Local Dimming — This technology can make specific sections of the TV screen darker to give the brighter areas more "pop" on screen. In other words, it improves the contrast and depth of the images on the screen. A full-array backlight is best for the most effective local dimming.
HDR — The short form of High Dynamic Range, it supports brighter and more diverse array of colours, which creates a sharper image on the screen. The result is an image that is incredibly realistic. Note, to be most effective, an HDR TV needs content that is created for HDR TVs. The good news is this is becoming more common on streaming services and Ultra HD Blu-Ray discs.
Operating Systems — Most new TVs on the market are smart TVs, and that means they have operating systems to give you access to content beyond the cable and network services of days past. As streaming services proliferate in today's marketplace — Netflix, Amazon Prime, Disney+, Crave, AppleTV+, Shudder, to name but a few — it is advantageous to have the tech built-in to your TV to help you access all of it. Among the more popular operating systems are AndroidTV and Roku, and Hisense offers VIDAA, the operating system for its new Smart TVs. Originally designed in Canada, it is fast, simple and fully customizable.
Bezel-less — The bezel is the frame that runs around the TV screen. A bezel-less TV has minimized this frame to ensure that your TV is as much screen as possible.
Dolby Atmos — Cinema-inspired technology that creates the sounds of the theater in your home. Atmos moves the sound around you for a more immersive experience that is crystal clear. It's sound you not only hear, but you also feel it.
Ultra-Short Throw Projector — The next generation of projection TVs. No longer do you need to mount a projector on the ceiling or place it on a table some distance from the screen. The Ultra-Short Throw Projector sits right under the screen, projecting an eight-million pixel HD image up to the screen with no distortion.
ALR Screen — In concert with theUltra-Short Throw Projector, the Ambient Light Rejecting Screen makes a projection TV feasible in any room of the house. (Whereas traditional projectors are best viewed in dark rooms.) It also makes it comfortable to watch the TV from any angle. It basically works by reflecting the light of the projector towards the viewers while deflecting other light sources in the room in another direction.
MEMC — A chip (Motion Estimation / Motion Compensation) that is used to interpolate extra images on your TV, which is a fancy way of saying it works with the refresh or motion rate to smooth out the picture.
AI Screen Recognition — This technology automatically adjusts the picture and audio based on the video input. It helps optimize the viewing experience, whether you are watching sports, a movie, your favourite TV series or cartoons or playing video games.
For more information, please visit hisense-canada.com.