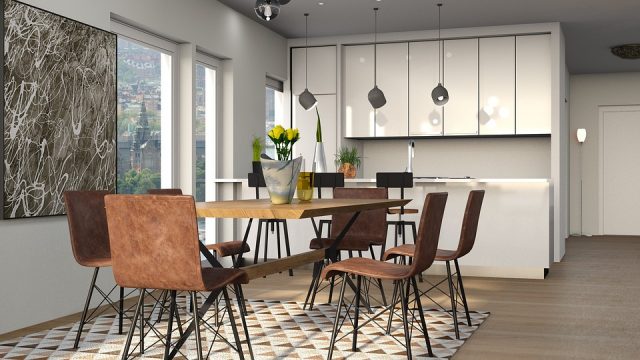 When designing a kitchen, getting the visual aspect of the design to be on point is just as important as mastering the layout is. However, people tend to forget that the functionality of the space plays an equally important role as well. Although it is difficult, it is definitely possible to make the right layout in your kitchen and completely mess up its functionality. In order to avoid that, here's a list of things you should pay special attention to if you want to make a kitchen that breaths style and comfort.
Are you sure your layout is properly planned out?
Before you start, make sure that the layout you opted for is the right one for your kitchen. Try to envision all the things in their place and try to "walk around" your new kitchen in your mind. Ask yourself this: does your new layout allow you to safely remove a pot of freshly cooked meal from the stove? If the answer is no, rethink your layout. Think about how and for what purpose you use different areas of your kitchen and base your layout off of that. For example, make sure that all the breakfast stuff, such as cereals, fruit, cereal bowls, OJ glasses and coffee mugs, are grouped together to make the entire process of making and serving breakfast much more seamless.
Decide on the colours you wish to implement
Next, you should consider the colours you wish to be rocking in your kitchen before you get all the furniture and appliances in. This way, you'll literally have a clean canvas to work on. If you have already purchased décor elements as kitchen cabinets, dining table and chairs, and statement rugs, it will be easier for you to decide on the colour of the walls. The rule of thumb is usually to either match the wall colour with the colour of the furniture or contrast it completely. Either way, take care of this step before you fill your kitchen.
Think about the appliances you need in your kitchen
Once the base of the room is done, it's time to move onto making it functional. The space you have to work with will determine the number of appliances you'll be able to implement. However, a good idea is to look for multi-purpose or combined appliances to save as much room as you can. There really is no need to have a refrigerator and a freezer as two separate units in your kitchen, so make sure you check out the combined models. Additionally, instead of setting up bulky water machines, you should consider installing an under-sink reverse osmosis water filter. This way, you and your family can enjoy a glass of fresh and safe drinking water whenever you feel thirsty, without having to sacrifice valuable space in your kitchen.
Rethink your kitchen cabinet design
When it comes to kitchen cabinets, you should aim at functionality above all else. Sure, you might have been dreaming about those open-shelf kitchen cabinets but do know that – although undoubtedly pretty – they are not quite practical. If you think about all the fumes form meal prep that become airborne as they evaporate piling up on your open-shelf kitchen cabinets, it becomes quite obvious why they're not such a good idea. Aside from that, your dishes will be exposed to all the dust and grime that accumulates in the air, so even if you wash them and store them away, they still won't really be clean once you need to use them again. So, what you should do is rethink the design of your kitchen cabinets before you commit. If you still really like the idea of exposed dishes, opt for glass-front kitchen cabinets.
Top it off with a backsplash
Finally, once everything is in place, it's time to add a backsplash. This nifty kitchen essential not only looks great but it will also protect the wall under it from water and food splashes. That's why, when choosing the material for your backsplash you should go with something that's durable and easy to clean, such as tile, and preferably stain-resistant, such as stainless steel.
If you're looking to put together a kitchen that's both beautiful and functional, make sure you keep these tips in mind. There's absolutely nothing worse than a kitchen that looks beautiful but lacks in functionality.