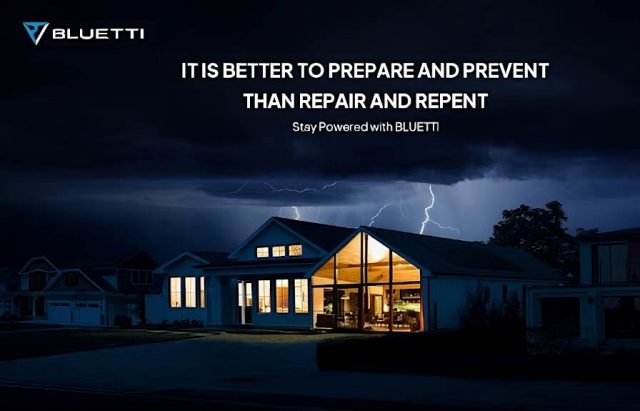 BLUETTI, a pioneering leader in innovative energy storage solutions, is proud to introduce a comprehensive set of essential safety guidelines aimed at equipping individuals and communities to effectively manage unexpected power outages. In an era where the unpredictability of natural disasters and infrastructure challenges can disrupt power supply, BLUETTI's expertise offers clarity and practical strategies to ensure safety, comfort, and resilience during times of crisis.
How to Prepare Before Natural Disasters
Natural disasters can strike suddenly, leaving little time for preparation. However, taking proactive steps in advance can significantly enhance your safety. Here's how you can prepare:
Stay Informed: Stay abreast of weather forecasts and local disaster risk assessments through trusted sources such as local news media, emergency management agencies, and official social media channels. Sign up for emergency alerts and notifications from your local government to receive accurate and timely information. Familiarize yourself with evacuation routes and community gathering points to ensure swift action when needed.
Prepare an Emergency Kit: Assemble a well-stocked kit containing nonperishable food, drinking water, medications, first aid supplies, a flashlight, batteries, a battery-powered radio, and essential documents. For those heavily reliant on electronic devices, consider adding BLUETTI's EB series portable power stations (EB3A, EB55, EB70S) to your kit. These multi-outlet handy power stations ensure you can stay connected and powered up, enabling you to receive official notices and maintain communication.
Develop an Emergency Plan: Natural disasters, like earthquakes, can strike suddenly and without warning. Don't leave anything to chance. Craft a comprehensive evacuation plan for your family, including multiple evacuation routes and a designated meeting place away from danger. Regularly practice these plans to ensure everyone knows their roles. Remember to include your furry family members in your plans.
Prepare a Home Backup Power Source: Following natural disasters such as wildfires or ice storms, you can expect prolonged outages lasting days or even weeks due to disrupted power grids. It is very important to prepare a powerful home backup power supply in advance. BLUETTI's AC300+B300 and EP500Pro power solutions offer seamless 24/7 UPS backup protection from power outages, keeping your home running as usual.

The AC300+B300 modular system, with a capacity ranging from 3,072Wh to 12,288Wh and a powerful 3,000W output, can power all your household appliances, including lights, fridges for fresh food, heating system for warmth, and CPAP machines for normal use. Plus, it can be charged at 2,400W via solar panels to ensure long-term power availability. Pairing it with two or three BLUETTI PV200 folding solar panels, an AC300+B300 combo can be topped up in 8 or 6 hours. BLUETTI is currently offering great savings on the AC300 and its bundles. An AC300+B300 combo is now C$3,799, plus three PV200 solar panels for a total price of C$4,999.
If you need a mobile, all-in-one home backup power source, the EP500Pro is your best choice, featuring a 5,120Wh LiFePO? battery and a 3,000W pure sine wave inverter. Four smooth wheels on the bottom allow it to move freely around the house to power your devices. It also supports 1,200W solar charging, using 3 pieces of PV200 that could charge EP500Pro in 9 hours. Now, BLUETTI is discounting the EP500Pro+3*PV200 bundle for C$6,499 to help you protect your home from losing power.
What to Do During Natural Disasters
When a natural disaster strikes, your safety and well-being are paramount. Here are practical steps to help you navigate the challenges:
Stay Informed and Calm: Keep your communication devices, like phones and radios, fully charged to stay informed about the situation. Staying calm is essential for making rational decisions.
Follow official instructions: If officials issue a shelter-in-place order, do as they say. Gather family members in a safe room away from windows and exterior walls. If ordered to evacuate, leave the area as directed and take your prepackaged supplies, including your BLUETTI backup power source, to sustain you for several days. Do not attempt to return until it is officially declared safe.
What to Do After Natural Disasters
As the disaster subsides, the aftermath can be just as challenging. Here's how to navigate the aftermath effectively:
Check for Safety: Assess your surroundings for potential hazards. If you need to venture outside, be cautious of downed power lines, debris, and unstable structures.
Document Damage: Take photographs of any damage to your property. This documentation will be essential for insurance claims and government assistance applications.
Stay Updated: Continue to follow local news, social media, and official announcements for recovery efforts, emergency shelters, and relief distribution points.
Natural disasters bring challenges, but with careful preparation and the right tools, you can minimize their impact on your life. BLUETTI's innovative power solutions, such as the AC300+B300 and EP500Pro, equip you with the means to stay connected, powered, and resilient during and after these hard times.