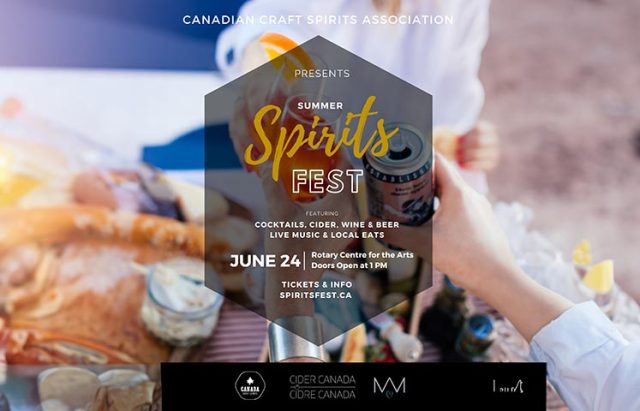 The Canadian Craft Spirits Association (CCSA) is bringing the first-ever Canada Spirits Festival to the scenic Okanagan Valley, this June 24! Kelowna's cultural district will transform into a spirits wonderland, showcasing an impressive lineup of award-winning craft spirits from all corners of Canada. This festival promises a wild ride of flavours, laughter, and good times.
The Canada Craft Spirits Festival is a can't-miss event for cocktail aficionados and enthusiasts eager to explore the best of Canadian spirits. Indulge in a remarkable collection of Gins, Vodkas, and other top-notch spirits, complemented by an array of cider, beer, and wine options. Be sure to also explore the Gold Award Spirits Pavilion, where vendors will be showcasing only the finest spirits that Canada has to offer.
Immerse yourself in a vibrant ambiance of live music, an enticing art walk, and a delectable array of food options. This event caters to all preferences, including non-alcoholic drink choices, ensuring everyone can join in the festivities.
"Join us for a fresh and fun experience that celebrates the incredible craft spirits produced across our beautiful country. Discover new favourites, engage with passionate distillers, and become part of the dynamic craft spirits community" says David Mossman,  Executive Director of the Canadian Craft Spirits Association
Event Details:
Date: June 24, 2023
Time: Doors open at 1 PM
Location: Rotary Centre for the Arts & Park
Ticket Prices: Starting at $35
More details: spiritsfest.ca
Session 1 – Gin, Cakes & Cocktails Garden Party:
Pair Gin cocktails with baking delights while you stroll through the art walk and listen to live music. This portion of the event is in partnership with Mamas for Mamas.
Session 2 – Main Tasting Festival:
Distillers will have the opportunity to share their collection of popular and unique spirits with attendees. Hear their stories and pick your favourite cocktails for the "Best of the Fest" Awards.
The Canada Craft Spirits Festival is presented as part of the Canadian Craft Spirits Association's event series and showcases exceptional craft spirits from local, regional, and national distilleries.