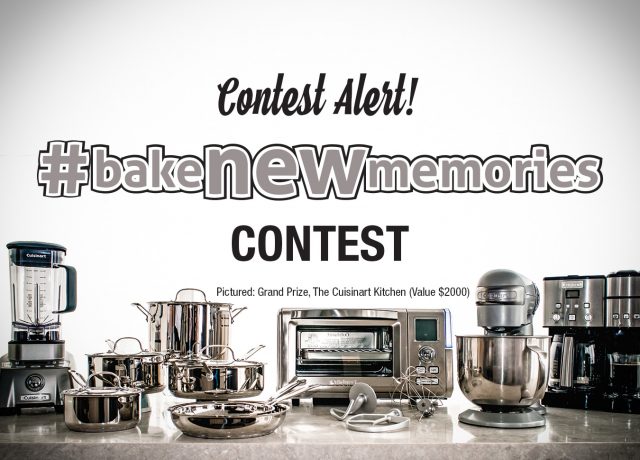 Toronto, ON: Inspired by the nostalgia of baking with mom, Cuisinart Canada asks the country to submit their own family baking memories or favourite recipes ahead of Mother's Day, May 14. The quality kitchen brand invites baking enthusiasts to enter their #bakenewmemories social media contest for a chance to win a Cuisinart Precision Master™ Stand Mixer. With a powerful 500 watt motor and 12 speeds for precise mixing, The Cuisinart Precision Master™ Stand Mixer makes a great addition to any kitchen. It includes a chef's whisk, dough hook, flat mixing paddle, and splash guard with pour spout. Cuisinart Canada will be giving away six (6) Stand Mixers valued at $500, during the six (6) week contest, as well as a grand prize of a $2,000 Cuisinart kitchen. The contest opens April 3 and closes May 14, 2017.
"Many Canadians cherish memories of baking with mom, grandma or another family member, whether as a kid or an adult. We want to acknowledge these treasured memories and inspire people to create yet more of them," explains Tom Malelis, director of marketing, Cuisinart Canada. "The stand mixer is central to baking and recipe creation; the Cuisinart Precision Master™ 5.5 Qt (5.2L) Stand Mixer is designed with superior performance and longevity in mind, making it the perfect product to assist Canadians in continuing the tradition of baking new memories.
"The Cuisinart Precision Master™ 5.5 Qt (5.2L) Stand Mixer is an ideal wedding registry, anniversary or Mother's Day gift, and in giving the product to our contest winners, Cuisinart Canada hopes to inspire the bakers of today and tomorrow, whether they're creating new kitchen memories, or adding a personal twist to an existing family recipe."
How to enter:
To enter the contest, you must 'like' Cuisinart Canada on Facebook (@CuisinartCanada). Post your baking with mom memory or recipe to the Facebook channel, including the #bakenewmemories hashtag in the post.
Option 1: Describe your baking memory. Did you and your mom bake together when you were a kid? Or maybe you make a special batch of cookies on special occasions for the kids? Tell Cuisinart your story via Facebook! Include the hashtag #bakenewmemories so everyone can see your post.
OR
Option 2: Recipe photo. Do you love baking? Do you have a go-to recipe that you're proud of? Cuisinart wants to see your creations! Send a photo and description of your favourite finished recipe (cookies, pies, cakes, anything you'd like!) via Facebook and include the hashtag #bakenewmemories so everyone can see your post.
Cuisinart Canada will announce each Stand Mixer winner weekly on social media platforms (Facebook, Twitter, Instagram), and the grand prize winner on Mother's Day, May 14.
About Cuisinart: Cuisinart, known for introducing the food processor in Canada, is a leader in culinary appliances and professional-quality cookware and kitchen accessories. The company's cutting-edge reputation is seen across many platforms, from industry-first products and design awards to sponsorships of culinary events and TV cooking shows. Cuisinart manufactures a full range of products under the tagline "The Most Trusted Name in the Kitchen". Products include cookware, cutlery, countertop cooking appliances, blenders, stand mixers and coffeemakers, as well as food processors, toasters and toaster ovens, ice cream makers, and waffle makers. Please visit www.cuisinart.ca for more information.