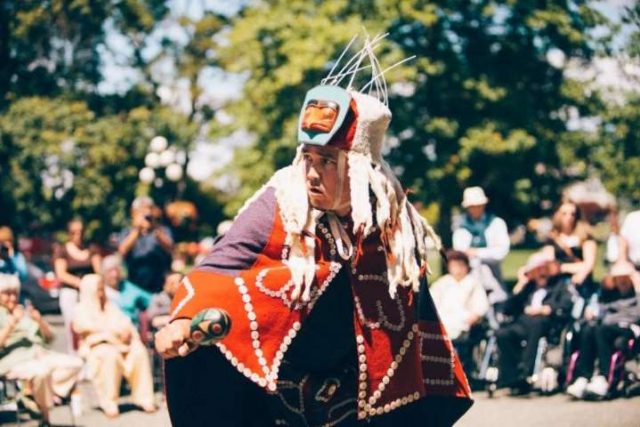 Coast Salish Territories (June 11, 2019): Hosted by the Songhees and Esquimalt Nations, Victoria Indigenous Cultural Festival pays homage to National Indigenous Peoples Day (June 21) with an entire weekend dedicated to cultural performances, engaging tours and traditional artisan-crafted goods.
Free to the public, Victoria Indigenous Cultural Festival (June 21 to 23) is anchored by spectacular performances by local and international Indigenous artists. All performances will be staged at the Royal BC Museum outdoor plaza, situated in the heart of Victoria, BC.
Festivities kick off on Friday, June 21 with a traditional Canoe Crossing Protocol Welcome (10:30am), followed by an official introduction and welcome. Throughout the rest of the weekend, guests can join daily cultural tours hosted by local artist Andy Everson; attend a smudging ceremony and enchanting shows featuring hypnotizing drumming and dancers; and engage with traditional artisans as they demonstrate the creative process involved in carving, jewellery-making and printing. Visitors can also indulge in authentic cuisine prepared by members of the Songhees Nation: decadent delicacies on offer include hot-off-the-barbecue salmon burgers, crispy fry bread and creamy clam chowder.
"We look forward to inviting locals and visitors to Victoria to celebrate National Indigenous Peoples Day with us at this year's Indigenous Cultural Festival," said Brenda Baptiste, Board Chair, Indigenous Tourism BC. "The event not only celebrates and honours centuries of Indigenous cultures, it also showcases the incredible breadth of talent and tenacity in our communities."
"We are extremely proud to host local and visiting First Nations, as well as travellers and Victoria residents, at the Royal BC Museum during the Indigenous Cultural Festival," said Professor Jack Lohman CBE, CEO of the Royal BC Museum. "Guests can look forward to vibrant entertainment in a central setting just steps from the Inner Harbour. Visitors are also invited to browse the museum's feature and permanent exhibitions, including the recently refreshed First Peoples Gallery to learn more about Indigenous history in the region."
Festivities will run between 11am and 5pm on Friday, Saturday and Sunday. For the daily event's schedule, please go to https://www.indigenousbc.com/things-to-do/events/2019-victoria-indigenous-cultural-festival/.