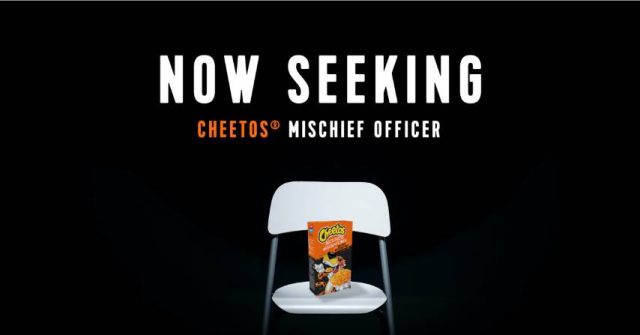 Chester Cheetah is celebrating the long-awaited arrival of Cheetos® Mac 'n Cheese by offering up an alluring job opportunity in Canada: the opportunity to become a Cheetos® (Mis)Chief Officer (CMO) and make some trouble in the world of mac & cheese. The Cheetos® brand is looking for two mischievous Canadian super fans who are up to showing how bold and exciting mac & cheese can be.
The CMOs will be paid $4,000 s(mac)karoos (CAD) for treating their friends and family to a bolder and definitely cheesier mac. With flavours like Bold & Cheesy and Cheesy Jalapeño, all the way to Flamin' Hot®, it's time to make a bold move with Cheetos® Mac 'n Cheese—no ketchup required. You're welcome.
"We know letting go of an old friend isn't always easy, but we're confident that nothing heals better than a bowl of bold and cheesy Cheetos® Mac 'n Cheese," said Logan Chambers, Senior Director of Marketing, PepsiCo Foods Canada. "With the help of our new Cheetos® (Mis)Chief Officers, the Cheetos® brand is encouraging Canadians to live Dangerously Cheesy® and move on to a hot new mac."
CMOs might go big and replace everything in their kitchen with Cheetos® new, sexy macs, or they could offer the last person to text them a hot bowl of Cheetos® Mac 'n Cheese delivered to their door.
So if you're up for upgrading your roommates' mac stash to our hot, new mac; or hosting a candlelit dinner with the most romantic meal of all (three types of Cheetos® Mac 'n Cheese), apply now for the brand's tastiest and ch(easiest) job in Canada. For more information about the position and to apply, visit cheetosmacncheese.castingcrane.com
Cheetos® Mac 'n Cheese pasta with sauce is available at retailers nationwide in three flavours: Bold & Cheesy, Flamin' Hot® and Cheesy Jalapeño. Get your paws on the newest mac in the market today!