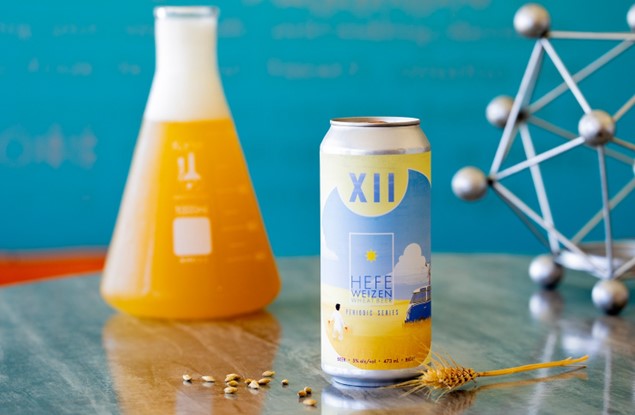 Category 12 Brewing in Saanichton, Victoria is answering the call for crushable, West Coast inspired beverages with their release of four chemistry- backed beers brewed by local scientist and founder, Michael Kuzyk.
"After opening and leading several research labs, I decided it was time to create my own," says founder and brewmaster, Michael Kuzyk. "There is a fundamental basis of biology and chemistry with brewing that guides the fermentation process and enables the creation of consistently great beers. It was a natural progression for me."
Kuzyk has been brewing beer for more than 25 years and has his doctorate in microbiology and biochemistry from the University of Victoria. After leading the creation of several world-class research labs, he decided it was time to make his own – dedicated to the pursuit of exceptional beer. Karen Kuzyk, co-founder and partner, realized that her affinity for aroma and flavour, paired with Michael's keen need to experiment, could yield a breakthrough in beer styles. Together, the Kuzyks created Category 12's balanced lineup, which pays homage to favourite Belgian-style beers and hoppy Northwestern ales, like their fan-favourite, Juicy Data Hazy IPA. The recent introduction of four summer-inspired releases, including a hefeweizen, pale ale, sour and pilsner, adds a perfect equilibrium of approachable beers to their roster.
About the New Beers
The Hefeweizen Wheat Beer is a light and refreshing wheat beer made with German Pilsner and wheat malts. The fermentation process includes the classic Weihenstephan yeast strain which yields balanced notes of banana and clove.
5% alc/vol | 14 IBU
The Pathway Pale Ale is an easy-drinking pale ale that was chosen by taproom customers through a voting process over another pale ale, which will be canned and kept on the roster all year around. It has a delicious intersection of citrus aroma, flavour and light malt.
5% alc/vol | 38 IBU
The Raspberry Vanilla Sour is an indulgent yet refreshing sour beer, including B.C. raspberries and blueberries picked at the peak of ripeness and added to their golden sour base. There is a hint of vanilla, making this a well-balanced treat of a beer that could be described as a smoothie for adults.
7.9% alc/vol | 7.9 g/L total acidity (sour scale 1-10)
Westy Pilsner is a Czech-style Pilsner that represents Category 12's spirit of adventure, reflected in an "artistic reinterpretation" of the founders' 1979 VW camper van on the can. Featuring distinct Czech Pilsen malts and Czech Saaz hops this brew is crisp and crushable.
5% alc/vol | 29 IBU
These four new beers round out their diverse offering to ensure there is a perfect brew for anything a beer-lover may be craving.
Category 12 can be found at craft beer friendly B.C. retailers, including B.C. Liquor Stores, Vessel Liquor, all Liquor Plus and Cascadia Liquor Stores. Only an eight-minute drive from Butchart Gardens and a 15-minute drive from downtown Victoria, tourists and locals can visit the taproom for a bite to eat on their patio – a perfect spot to enjoy a cold one after a long bike ride or a day of taking in the sights.
For more information, visit category12beer.com