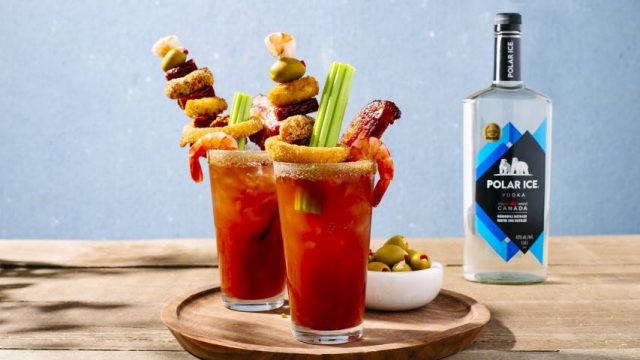 Trying new things is great, but sometimes it's best to stick with the classics. At least that's what we think when it comes to the Caesar.
A classic Canadian cocktail, the Caesar is well established: Rim a tall glass with a lime wedge and celery salt. Add ice, a dash of Worcestershire sauce and hot sauce, salt, pepper, a shot of vodka and top with clamato juice. Garnish with a stalk of celery and lime wedge.
With National Caesar Day around the corner, we've compiled a list of our favourite tried-and-true Caesars from restaurateurs around Ontario. Some of them vary slightly from the classics, with elevated garnishes and flavour profiles, yet each drink shares one similarity, high-quality vodka.
In honour of National Caesar Day on May 20th, let us show you where you can find some great Caesars from local spots!
The Keg — Take home cocktails are here to stay this summer. You can order the classic Keg Caesar cocktail made with @polaricevodka, keg Caesar mix, Tabasco and Worcestershire, delivered straight to your door!
Jack Astor's — The new ready‑to‑drink Classic Caesar Growler made with Polar Ice vodka is a staple on the Jack Astor drink menu. This Caesar is garnished with the classics, including a celery stalk, pickle spear and a lime wedge.
Original Joe's — Where else can you get a $5 Caesar but at Original Joe's every Sunday, all summer long. Nothing says easing out of the weekend like a classic Caesar.
State and Main — Serving as a brunch signature, State and Main's Classic Caesar is topped with pepperoncino peppers, mozzarella balls and olives — you can almost write it off as a miniature meal.
Elephant and Castle — If you're looking for a tried-and-true Caesar, look no further than Elephant and Castle. This Caesar sticks to the basics and delivers a delicious Caesar 100 per cent of the time.
Brown Social House — The Browns Caesar is comin' home. You can order Browns Polar Ice vodka Caesar kits straight your front door. Caesars for one, Caesars for all!
Local Public Eatery — Who wouldn't love a LPE Caesar? With vodka and spicy Clamato as a base, this Caesar is dressed up with a snack on the side.  
St. Louis @stlouiswings — Take a Canadian Heritage Moment this #CaesarWeek and enjoy the True North version of Canada's National Cocktail. St. Louis is serving Caesar Kits, available for pickup and delivery May 11-24!