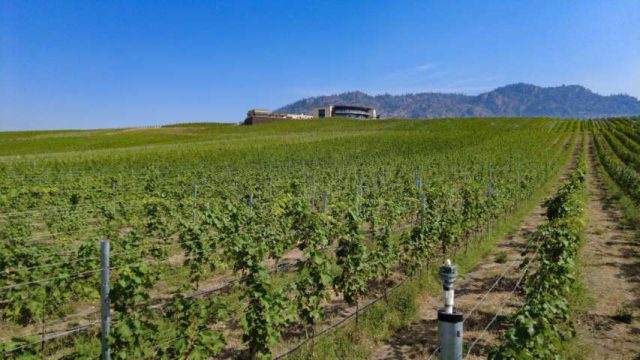 The winemaking team at Phantom Creek Estates, the Okanagan Valley's celebrated destination winery, is thrilled to announce the 25th anniversary of their award-winning Phantom Creek Vineyard along with a host of events and exclusive offerings to celebrate the occasion.  Established in 1996 by pioneering viticulturist Richard Cleave, Phantom Creek Vineyard is consistently recognized for producing some of the best red wines in Canada, including Cabernet Sauvignon and Syrah.
Located on the lower terrace of the southwest-facing Black Sage Bench, Phantom Creek Vineyard is perched slightly above the valley floor, ensuring full access to the warm afternoon sun. The vineyard's well-draining sandy soils are the result of streams that slowly deposited nutrient-rich sediment over thousands of years. Wines from this eight-acre site have garnered over 85 awards in recent history.
"Phantom Creek Vineyard has always been planted with the aim to produce the highest quality fruit possible, and we're proud to continue that tradition today at Phantom Creek Estates," said Mark Beringer, director of winemaking at Phantom Creek Estates. "The wines we craft from Phantom Creek Vineyard are our most notable as we take a hands-on approach from time spent caring for the terroir to hand-picking the fruit to barrel fermenting each block. Phantom Creek Vineyard produces interesting, stand-out wines from its distinctive sandy soil terroir, and we're excited to celebrate 25 years of its value to the Okanagan Valley winemaking history."
To celebrate the 25th anniversary of Phantom Creek Vineyards, the winery is hosting a series of celebratory events that launched in May of this year and will take place through September, including a monthly Phantom Creek Vineyard-focused dinner series in the winery's Red Ferment room held on the last Wednesday and Thursday of each month.  The multi-course gourmet dinners will be paired with Phantom Creek Vineyard wines, and a member of the winemaking team will be present to educate guests.  Additionally, the winery will host special weekly walking tours and tastings in the vineyard and will present guests with the opportunity to elevate any wine tasting experience in the tasting room to include samplings of Phantom Creek Vineyard wines.
Furthering the festivities, the winery will host a special Soirée en Rouge event on Saturday, July 9 from 5:00 p.m. to 8:00 p.m.  Guests are requested to wear red while enjoying a unique tasting experience featuring a variety of tasting stations, a pig roast, and live music from local band, the Rann Berry Band.  Tickets are priced at $150 per person or $100 per person for wine club members and can be purchased via this link.
The winery is also debuting a new Summer Picnic offering which is available daily and is BYO (bring your own) blanket.  Reservations are required for the Summer Picnic, and wine bottles and charcuterie trays are available for purchase to enjoy in the winery's outdoor lounge and amphitheater.  Lastly, the winery will be hosting a Summer Music Series every Friday, beginning May 20 through September 16 from 3:00 p.m. to 6:00 p.m. with live music in the amphitheater featuring local musicians.  Tickets can be purchased via this link.