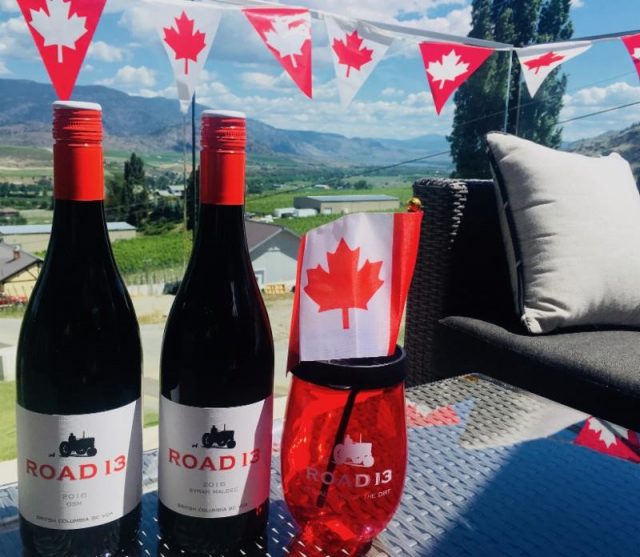 Road 13 Vineyards celebrates Canada's 151st birthday with newly
released BBQ friendly wines; 2016 GSM (Grenache, Syrah, Mourvèdre) and 2016 Syrah Malbec, along with pairing recipes from the popular Road 13 dinners with Backyard Farm, that will have guests singing 'Oh Canada!' Road 13 is open on Canada Day and invites wine lovers to join them for tastings of red and white.
Add some oomph to your Canada Day gatherings with Road 13 Vineyards' Sparkling Chenin – a wine club member exclusive (join the club). This crowd favourite is made from Road 13's fifty year old Chenin Blanc – some of the Okanagan Valley's most established vines. Located on the Golden Mile Bench, the senior Chenin Blanc fruit creates the traditionally made Sparkling Chenin Blanc. The vineyard block that produces Chip off the Old Block was planted in 2011 with cuttings from the quinquagenarian vines.
Road 13 Vineyards adds another reason to celebrate this summer with an impressive showing at the 37th Annual All Canadian Wine Championships (ACWA). Road 13's Seventy-Four K was awarded double gold, while both Road 13's Honest John's Rosé and 5th Element took silver. The ACWC is Canada's oldest wine competition and has followed the growth of Canada's wine industry. This year's competition had 1,393 wines entered, with 341 wineries from BC entering a total of 871 wines.
Barbecuing this weekend? Enjoy some tasty sides from Backyard Farms' chef Chris Van Hooydonk:
Organic Nugget Potato and Fine Bean Salad  – serves six
5 cups nugget potatoes (cooked, cooled, quartered)
2 cups French beans (blanched)
4 whole eggs (hard boiled, cooled and peeled)
1/2 red onion, julienned
For the dressing:
1/2 cup sour cream
1/2 cup full fat yogurt
1/2 cup mayonnaise
2 tbsp grainy Dijon
1 tbsp honey
In a large mixing bowl combine onion, egg, potatoes and blanched beans. Set aside.
In a separate small mixing bowl, combine all ingredients together and whisk until well combined. Add to the other ingredients, season and serve.
Peach and Cabbage Slaw(prepare one day ahead)
1 small head of cabbage-julienned (combination of red and green)
1/2 red onion
4 whole fresh peaches (cored and wedged)
For the dressing: 
1 whole peach
1/4 cup cider vinegar
2 tbsp honey
2 tbsp grainy Dijon
3/4 cup mayonnaise
1/4 cup whole fat yogurt
salt and pepper to taste
Chives, basil, parsley, dill, lovage as desired
Place all dressing ingredients in a food processor and blend until pureed. Season, and add to cabbage mixture. Let sit for one full day in fridge, and strain off excess liquid. Garnish with fresh or grilled peaches and serve.
Road 13 Dinners
Join Road 13 owners, the Luckhursts, in the Executive Lounge for a spectacular evening that pairs Road 13's artisan wines with a four-course meal prepared by Chef Chris Van Hooydonk of Backyard Farm. These dinners are sure to delight as guests take in the stunning views as the sun sets and dusk invites the stars out.
Dates: July 21 (sold out), August 18,  September 29 (limited availability),  October 6
Time: 6:15pm 
Reservations required. $149 per person + applicable taxes (gratuity included). Includes multi-course dinner with wine pairings and shuttle from Oliver & Osoyoos.
Class in a Glass: paint pARTy 
Guests are encouraged to grab a glass, a paintbrush and roll up their sleeves while Laura Luckhurst teaches guests to paint their take on an original art piece featured at Road 13. Tickets include all materials and a glass of wine. Additional wine & charcuterie available to purchase.
Dates: July 5, July 26, August 9, August 23, October 2
Time: 6:45pm, arrive early. Wear paint appropriate clothing.
Price: $55.00
Wine Tripping All Summer Long
Tastings and tours run daily from 10am to 5:30pm. Want to drink wine in a castle? It's a legacy of the winery's former owners and offers guests a welcoming venue to sample feature wines. The Executive Lounge is a contemporary view-centric space where guests can enjoy a sit-down tasting of the entire Road 13 Vineyards portfolio accompanied by charcuterie boards that includes a selection of meats, cheese, condiments, crackers and bread. Road 13's ever popular fRose™* – a pink wine slushie, perfect for hot Okanagan summer days, offer in the lounge only and includes a GoVino wine glass to keep.
Visit www.road13vineyards.com to make reservations and for full information on tours and tastings.