We all know that when preparing a meal, fresh is best—and that growing your own veggies and accompanying herbs makes for an especially appetizing experience. This is no different when it comes to crafting cocktails!
When considering growing herbs for a bartender's garden, start small and grow herbs that you're most likely to use. Whether perennial or annual, most herbs are easy to grow and share the same need for full sun, well-draining soil, neutral pH, and little, if any, fertilizer.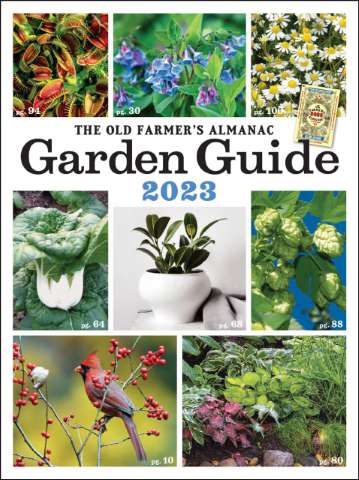 Consider growing the following herbs for happy-hour inspirations:
Basil
Basil varieties offer a range of flavor profiles, from sweet to citrusy lemon and lime to spice cinnamon to anise-like Thai; the dark purple variety bears a mild clove flavor but is usually chosen for the color that it lends to drinks. Basils pair well with gin, vodka, or rum. A tender annual, basil is easy to grow from seed.
Cilantro
Cilantro infuses fruity drinks with south-of-the-border zing. Good with vodka, gin, tequila, or rum, it's a great candidate for your next mojito or margarita. Plant new seeds of this annual every few weeks to keep a fresh supply growing.
Lavender
Lavender adds a floral sweetness. Use it sparingly, though: It can be overpowering and even bitter, if overdone. These petals make a delicious lemonade that can be enjoyed as is or enhanced with light spirits such as vodka or gin. It is also tasty with a splash of tequila or rum. Perennial to Zone 5, lavender likes slightly alkaline soil, so add lime or wood ashes if necessary to raise your pH to between 6.5 and 8.
Thyme
Thyme offers many flavor profiles, depending on the type you choose—lemon, orange, caraway, coconut, nutmeg, rose petal, or culinary thyme. Each is perennial and most types are hardy from Zone 5 to 7. Grow them from seed, cuttings, or transplants. Thyme marries well with vodka or gin; try it with bourbon for a thyme old-fashioned.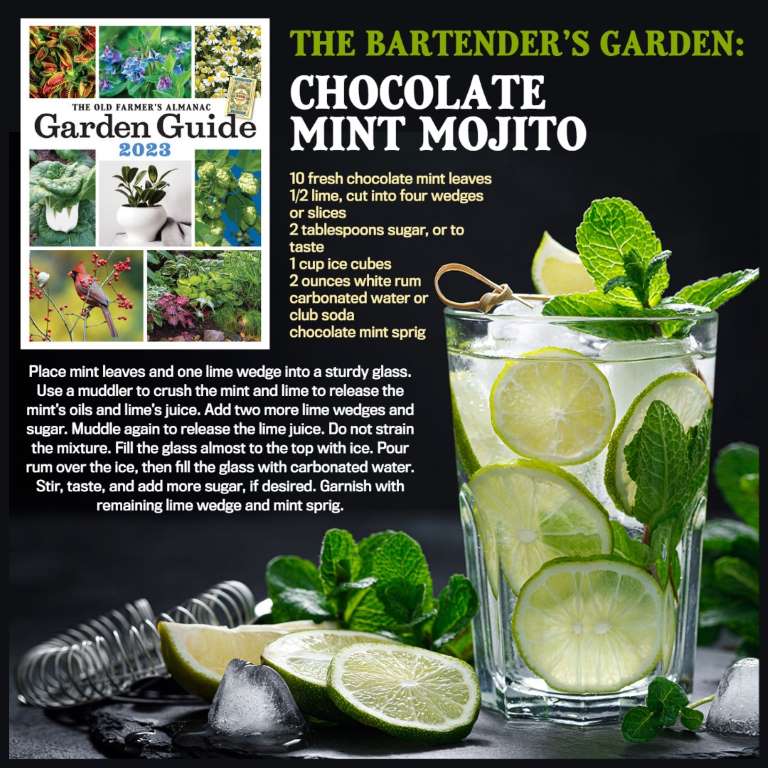 Mints
Mints are many, and all are interesting. For drinks, chocolate mint, spearmint, and apple mint are best. Peppermint can be too sharp and intensely menthol. If you love mojitos or mint juleps, mints are must-haves in the garden. (Check out the Chocolate Mint Mojito recipe below!) Be sure to plant these perennials in a pot or otherwise contain them to prevent them from running rampant. 
Bottoms up! Santé! Cin-cin [chin-chin]! Salud! Proost! Kanpai [gahn-pie]! Cheers! However you say it, when enjoying your unique botanical cocktails with friends, be sure to toast to good health—and herbs!
The 2023 Garden Guide is published annually and available for $7.99 USD/CAD online and at local booksellers. A full list of retailers can be found at Almanac.com/WheretoBuy. A digital version of the Garden Guide, plus other resources, is available at Almanac.com/GardenGuide.