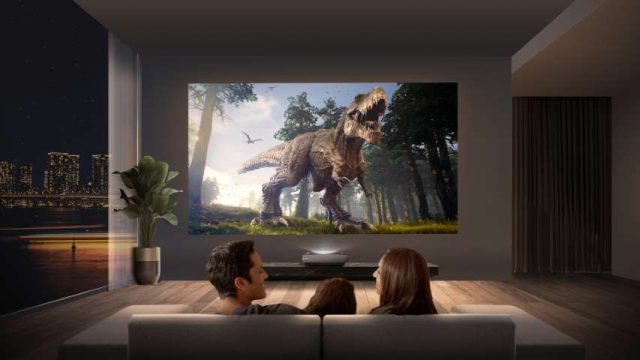 With a sharp, crystal clear image projected onto a huge screen accompanied by cinematic sound, the latest generation of laser televisions are redefining the home viewing experience.
Beyond the incredible quality of the image produced — smooth motion, razor-sharp contrast, a massive palette of more than a billion colours — the latest line of laser TVs takes the entertainment experience to a next level.
"Hisense laser TVs use ultra-short throw technology, allowing the projector to be placed only a few inches away from the screen, making it very convenient to set up your home theatre in any room," says Puneet Jain, Senior Director of Marketing and E-Commerce for Hisense Canada. "Equipped with the latest innovations in video and audio, Hisense's latest laser TVs deliver exceptional true-to-life images on an extra-large screen, creating an immersive viewing experience. Laser TVs are designed to provide a theatre-like experience at home, making them an ideal choice for gaming or to watch movies and shows in the comfort of your home."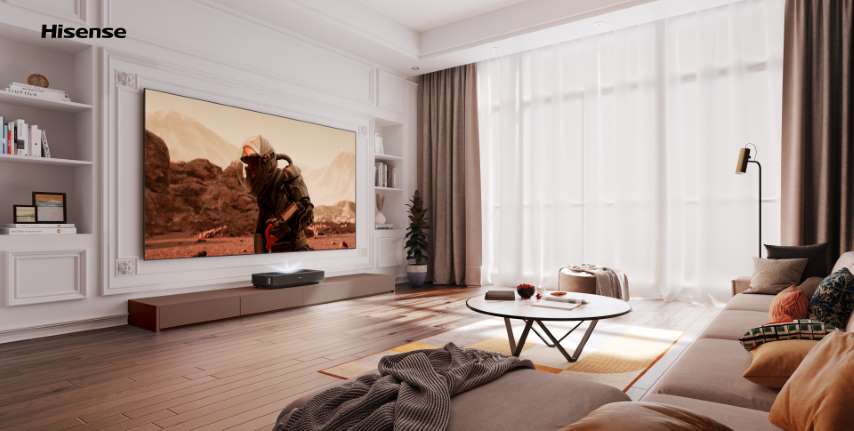 Hisense Canada offers four laser TV options in Canada:
L9H — The L9H TriChroma Laser TV is inspired by a world of incredible colour at a scale that makes everything feel brand new. The 3000 Lumen ultra-short throw projection TV features the TriChroma laser engine to reach 107% of the BT.2020 Colour space. L9H series is upgraded to support Dolby Vision, bringing incredibly vivid details to life. Premium features like Dolby Atmos® High-Speed HDMI, Filmmaker Mode and a perfectly paired screen make the L9H the ultimate home entertainment upgrade.
L5H — The L5H Laser TV immerses you into a whole new 4K UHD viewing experience. It's DLP® Technology powered by Texas Instruments and X-Fusion Laser Light Source enables you to enjoy a more natural viewing experience that brings your favourite content to life. This unique experience integrates the Google TV OS and includes an ambient light-rejection screen along with Dolby Atmos cinematic sound. With the IMAX Enhanced and Film Maker Mode, you can experience the next generation of optimized picture performance at home.
PX2-PRO — Powered by Hisense's award-winning TriChroma laser engine, the PX2-PRO TriChroma Laser Cinema features pure red, green and blue lasers to achieve new levels of picture performance — 1.07 billion colours for a true-to-life picture that has never been seen on a screen before. With a Digital Lens Focus, the PX2-PRO delivers a razor-sharp 4K image in sizes from 90 to 130-inches. Add to that premium features like eARC for lossless audio, Filmmaker Mode, Auto Low Latency Mode and smart home integrations provide an Ultra Short Throw brimming with entertainment experience.
C1 Mini Projector — Compact but powerful in a more traditional style, the C1 TriChroma Laser Mini Projector is an extraordinary piece of equipment, exquisitely placing more than a billion colours in consistently clear and vibrant images on screens from 65 inches up to 300 inches. It boasts 4K resolution and a 60Hz refresh, with Dolby Vision HDR, Ultra-High-Speed HDMI with eARC and Hisense's proprietary VIDAA TV smart operating platform. With  JBL Audio Solution and Dolby Atmos® for clear speech, full spectrum of sound with crisp highs and booming lows can be experienced without the need for additional equipment. The C1 is expected to be available in the Canadian market by the end of summer. 
"The latest laser TVs from Hisense bring the big theatre experience into the home," says Puneet. "All you need to supply is the popcorn."