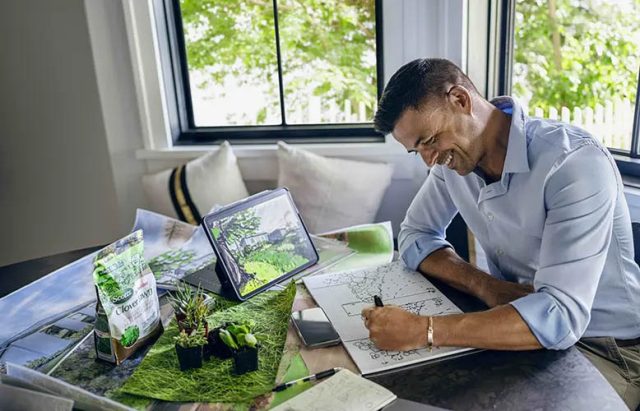 Extreme heat, drought, and water restrictions are affecting homeowners across the country, but less water doesn't necessarily mean fewer living ground cover and plant landscaping options. As part of its #ThinkWaterPositive initiative, the ScottsMiracle-Gro Company today announced Greenprints, a program to educate and inspire homeowners to explore water-positive possibilities through xeriscaping with drought-tolerant and native plants. To bring these Greenprints vibrantly to life, ScottsMiracle-Gro partnered with HGTV celebrity landscape designer John Gidding to create a series of water-conscious yard designs that can be easily accessed and customized through the number one landscape design app, iScape.
Gidding has created five distinct and stunning drought-friendly landscape designs to represent a variety of regions, climates, and native species across the country. At www.thinkwaterpositive.com, consumers can view the Greenprints and learn more about water-conscious alternatives and the benefits of having living plants and ground cover in a yard. The Greenprints design hub will also link homeowners directly to the iScape app where they can, at no charge, apply Gidding's Greenprints directly to their own yards. The design inspiration can be applied as full yard overhauls or smaller, bite-size projects, and recommended plants and products will be available for easy access.
"The presence of green spaces and living plants provides both environmental and mental benefits, and by demystifying xeriscaping, we hope those facing extreme heat or water restrictions are able to find inspiration around all that is to be gained by implementing water-positive landscaping," said Ashley Bachmann, vice president, lawns marketing at ScottsMiracle-Gro. "We are thrilled to tap into John's passion for stylish sustainable landscaping to develop these Greenprints so homeowners across the country can enjoy the benefits of his premium designs and use them in their own yards, whether they want to or have to use less water."
Gidding has worked on such notable projects as Brooklyn Bridge Park and Union Square in New York City, is a regular on such HGTV shows as Curb Appeal, Curb Appeal: The Block, Curb Appeal Xtreme, and Designed to Sell, and recently authored the book At Home with Nature.
"As a longtime proponent of xeriscaping and using native, drought-tolerant plants to create outdoor spaces that are not only lush and beautiful but require minimal water usage, I'm excited to partner with ScottsMiracle-Gro and iScape to share my designs," Gidding said. "It's our hope that people will be inspired to take on a project that will transform their yard into a water-friendly living landscape they can enjoy each and every day."
Greenprints is an actionable part of the brand's #ThinkWaterPositive initiative, a coordinated effort to help protect and preserve water resources. Building on the company's existing water stewardship commitments, #ThinkWaterPositive enhances ScottsMiracle-Gro's focus on water-wise product innovation, nonprofit and community engagement, and consumer education. #ThinkWaterPositive helps consumers create, maintain, and enjoy living landscapes while minimizing impacts on water resources and native species.
Greenprints will be available Aug. 1 on the iScape app, with more becoming available in September.