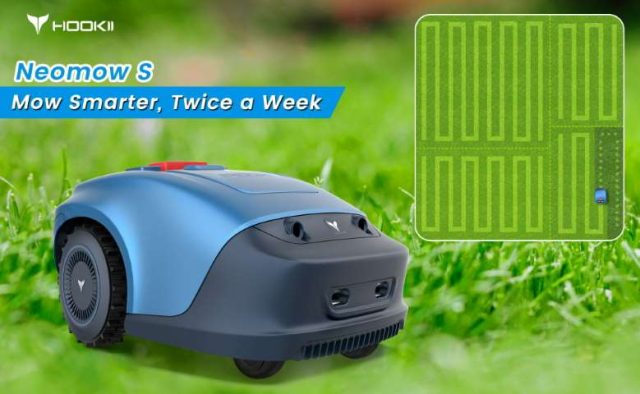 HOOKII, an innovation-driven and product-centric technology company, today announced the launch of Neomow S, the company's first robotic lawnmower. This parallel mowing robotic lawnmower is designed for providing an eco-friendly mowing solution. The product has a built-in 4400 mAh battery and can mow up to 300 square meters on a single charge.
Neomow S robotic lawnmower includes the following key features:
Parallel mowing up to double the coverage of randomized mowing. Combined with the built-in IMU and GPS, the HOOKII algorithm provides the mower with the ability to accurately calculate the cutting route when landscaping the lawn, allowing it to automatically choose the best pattern by dividing the lawn into multiple areas and performing mowing tasks in parallel straight lines.
Re-cutting at stoppage point function allows Neomow S to reduce the repeated mowing area. When the power is low, it will automatically return to charging, and continue to mow the grass at the stoppage point after the battery is fully charged.
HOOKII APP management allows users to set the mowing mode and schedule to their needs. Through the built-in Bluetooth, WIFI and 4G connection, Users can adjust the mowing direction, check the working time and power status of the Neomow S. Its cross-mowing mode can effectively reduce missed cuts in complex terrain, such as under weak signal conditions.
The Neomow S, coupled with rain detection sensors and IPX5 waterproofing, protects both the lawn and itself from damage by stopping mowing on rainy days. Ultrasonic sensors and other multiple sensors assist the lawnmower to avoid obstacles autonomously. In addition, the lawnmower has other functions including anti-theft, multi-zone management.
"Our first-generation Neomow S adopts multi-sensor fusion technology to achieve systematic mowing and can cover up to 300 square meters on a single charge, thereby improving cutting efficiency, It is a trailblazing product in the industry, and it is sold in all channels," said HOOKII CEO Rocky Wong, "We have also managed to control the costs excellently, allowing users to purchase parallel mowing products at the price of random mowing products. Additionally, our next-generation robotic lawnmower utilizes the latest SLAM technology to achieve virtual boundaries, parallel mowing, and precise obstacle avoidance. It is set to be released in the second quarter of this year."