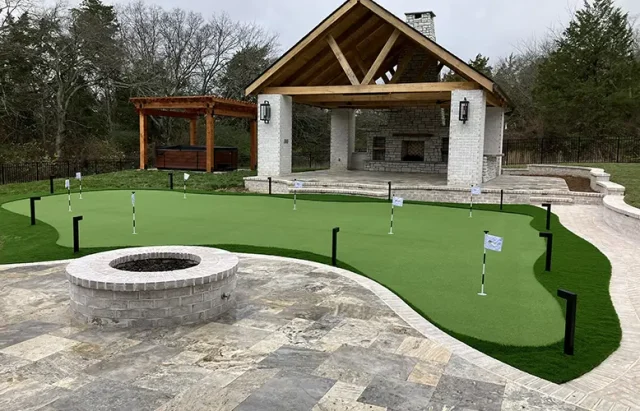 There are few better ways to spend a leisurely afternoon in Franklin than enjoying a fun and convenient game of golf. That's why one Franklin, TN, homeowner sought an artificial grass putting green installation that would transform their backyard into a personal putting paradise. When tasked with the challenge, Tee Time Turf put their technical ability on display and created the ultimate backyard for one Franklin family using SGW synthetic grass.
Tee Time Turf recently installed more than 1,200 square feet of Synthetic Grass Warehouse's Poly Putt 2-Tone Dark artificial grass in a home in Franklin, TN. Everlast Poly Putt 2-Tone Dark features a dual coloring of field green and lime green blade tones in a textured polyethylene material. With a durable 50-ounce face weight and a 0.5-inch pile height, Poly Putt 2-Tone Dark is perfect for heavy foot traffic applications, including residential and commercial putting greens. Manufactured with ultra-efficient drainage capabilities and UV inhibitors that guarantee long-lasting color, Poly Putt 2-Tone Dark is backed by our industry-leading 8-year warranty. All synthetic grass products from SGW are non-toxic, lead-free, and will drain at a rate of more than 30 inches of rain per hour per square yard.
Tee Time Turf's client was seeking a custom backyard putting green that would serve as a stunning visual focal point for their outdoor space while providing a practical space to practice their short game. They specifically requested a vibrant turf product that would contrast with the darker fringe surrounding the area, which is why Tee Time Turf opted for Synthetic Grass Warehouse's Everlast Poly Putt 2-Tone Dark. When asked why they chose SGW turf for this project, owner Eric Martin cited the "superior feel, quality, and warranty." In the volatile weather of Tennessee and with consistent play on a putting green surface, Tee Time Turf knew they could turn to SGW synthetic grass for a premier putting solution their client would love for years to come.
Tee Time Turf was founded in 2015 by California native Eric Martin. After working in the construction industry alongside his dad, Martin decided to follow his passion for design and environmental conservation to create a family-run synthetic grass installation company. "[My dad and I] have been in the construction industry for all of our adult lives," says Martin. "Our combined experience with compaction, drainage, aggregates, design, and personal detail has set us apart from the competition." As a family-owned and operated company, Tee Time Turf prides itself on attention to detail and customer service. "We enjoy being a smaller company that can be personable and create the vision that our clients seek," says Martin. "If you can dream it, we can build it."