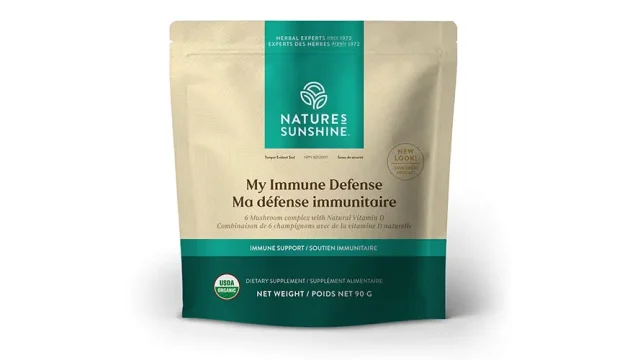 Nature's Sunshine, a pioneer in natural health and wellness solutions, is excited to announce the launch of its groundbreaking product, My Immune Defense on November 20th, 2023. This innovative supplement offers an all-natural way to boost immune support, enhance antioxidant defense, and harness the adaptogen powers of six carefully selected medicinal mushrooms. As the popularity of mushrooms continues to rise in alternative health and beverage markets, Nature's Sunshine introduces a convenient and versatile way to incorporate the incredible health benefits of these fungi into your daily routine.
In recent years, mushrooms have captivated the health and wellness world, with powdered forms being used as coffee substitutes, added to various beverages and smoothies, and integrated into recipes to promote overall well-being. Moreover, extensive scientific research has uncovered the extraordinary potential of mushrooms in preventing and treating modern life-threatening diseases. Nature's Sunshine's My Immune Defense simplifies the incorporation of these powerful health-promoting mushrooms into your daily regimen.
The six medicinal mushrooms featured in My Immune Defense are:
Agaricus bisporus: (White/Brown Button Mushroom): Known for its immune support and impressive antioxidant properties, this mushroom offers protection against viral and bacterial infections while delivering a plethora of antioxidants for cellular health.
Reishi: Often referred to as the "mushroom of immortality," Reishi boasts powerful antioxidant and anti-aging properties. It supports brain function, aids in stress management, and enhances gut and metabolic health.
Turkey Tail: Popular in Japan and China, Turkey Tail is a potent immune modulator known for its effectiveness in autoimmune conditions.
Shiitake: This mushroom has shown remarkable immune-boosting effects, as evidenced by a 2015 study that demonstrated improvements in immune markers and reduced inflammation in individuals consuming dried Shiitakes daily.
Cordyceps: Renowned for its ability to enhance mental and physical stamina, Cordyceps supports strong immune function, aids in managing glucose levels, and promotes cardiovascular health.
Chaga: Widely recognized for its health benefits, Chaga boasts an impressive array of antioxidants, including Superoxide Dismutase (SOD) and melanin, which combat inflammation, aging, and oxidative stress.
Chaga also supports the immune system, cardiovascular health, and detoxification. Chaga's history is rich, with its use dating back thousands of years in various cultures, including the practice of carrying smoldering Chaga to start fires during journeys. Scientists are continually amazed by Chaga's wide-ranging health benefits, making it a highly sought-after natural remedy.
My Immune Defense offers several advantages:
Incorporates six of the most well-researched and revered medicinal mushrooms.
Convenient dry powdered complex easily added to beverages and recipes.
Low in calories, carbohydrates, and a good source of naturally occurring vitamin D.
Certified organic.
Key Features and Benefits:
Supports the immune system as per Herbal Medicine.
Acts as an adaptogen to increase energy and resistance to mental and physical stress.
Functions as a liver tonic.
Provides antioxidants to protect cells against oxidative damage caused by free radicals.
Experience the exceptional health-promoting properties of My Immune Defense from Nature's Sunshine. Boost your immune system, enhance your antioxidant defense, and adapt to a stress-filled world with the power of medicinal mushrooms.