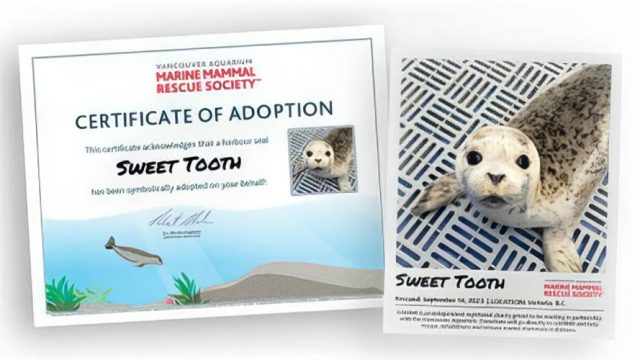 The Vancouver Aquarium Marine Mammal Rescue Society (VAMMR) is excited to launch Home for the Holidays 2023 and a contest for a chance to win attendance to the final harbour seal release of the year. From today until December 8, when you symbolically adopt one of 6 VAMMR animals, you are entered into a draw to attend the release on Tuesday, December 12.
From November 20 – December 8, every Adoption gives you a chance to enter our Home for the Holidays Seal Release draw. Imagine being part of sending one of our patients home! Each Adoption is one entry and be sure to find out more about the contest at www.vammr.org. 
"Home for the Holidays is an opportunity celebrate the final releases of the season but more importantly, to mark the important work of giving marine mammals a second chance at life. Our mission would not be possible without our donors, volunteers, and tremendous staff," said VAMMR's Executive Director Martin Haulena.
Internationally renowned for its groundbreaking stranded marine mammal medical program, VAMMR responds to over 300 marine mammal emergencies annually and runs Canada's only dedicated marine mammal hospital facility. Over the 60 years in operation, VAMMR has successfully rescued and rehabilitated over 3000 marine mammals.
"It is extremely rewarding to release these rescued animals back to their natural homes after months of intensive care at our Centre," said Marine Mammal Rescue Centre Manager Lindsaye Akhurst. "Our work is important to help preserve and protect marine mammal life on our coasts."
As the holiday season is underway, consider supporting the Vancouver Aquarium Marine Mammal Rescue Society as part of your annual giving or for holiday gifts. If you would like to find out how to support or more information, you can visit VAMMR's website at www.vammr.org.