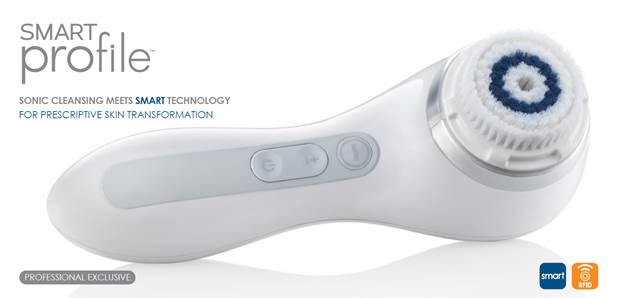 Introducing the Next Generation of Sonic Cleansing
Smart Profile from Clarisonic®
Clarisonic, the pioneer in sonic cleansing and transformative skincare reveals their biggest innovation yet: the most advanced and intuitive device to ever touch skin: the new Smart Profile. With a host of user-friendly upgrades smarter just got easier.
Incorporating RFID technology, the Smart Profile – Clarisonic's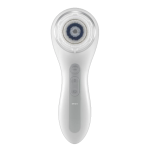 first device that can be used for face AND body! – automatically adjusts timing and power for a customized head-to-toe cleanse at the push of a button.
The cutting-edge technology of this next generation device compared to other Clarisonic models can be described in three simple words:
Smarter, Easier and More Powerful
Smarter.
It all starts with head-to-handle communication
– Acting as the brains of the device, the all-new Smart brush heads feature an RFI
– (Radio-Frequency Identification) Communication Chip. Pre-programmed to send information to the device, the brush head modifies its techniques to each person's skin by automatically adjusting speed, frequency and cleansing time for specific areas of the face.
– Smart brush heads also track minutes of use in order to alert the user when the brush head has reached its recommended limit
Smart Profile has been redesigned with a new user interface to:
– Visually indicate speed, operating mode, and battery-life
– Notify the user when it is time to replace the brush head
Designed with skincare professionals in mind, this handle is optimized to achieve superior results:
– Brand new Turbo function allows the user to temporarily increase the power of the device from any speed to obtain a more targeted cleanse at any point throughout the cleansing cycle
–  In a clinical study, shown to remove makeup 11x BETTER than hands alone
–   In a clinical study, shown to remove 30x MORE skin-damaging pollution than manual cleansing
–  Extended battery life for 36 minutes of cleansing time
"By combining smart technology, a powerful turbo function and a highly intuitive interface, we've created the next generation of sonic cleansing with the launch of the new Clarisonic Smart Profile," said Dr. Robb from Clarisonic. "Under a prescriptive protocol, the Smart Profile removes makeup 11 times better than cleansing with hands alone, making it the most powerful sonic cleansing device in the Clarisonic portfolio."
The Smart Profile includes:
– Smart Profile Device: 4 speeds plus turbo boost, smart mode, manual mode, waterproof, LED indicators including battery life and brush head replacement
–  2-in-1 Dynamic Facial Brush Head: Provides a pre-programmed, custom cleansing protocol that transitions automatically from amplified T-Zone cleansing to a gentler cleanse on more sensitive facial areas.
– Turbo Massage Body Brush Head: Offers full body cleansing and exfoliation combined with a vigorous sonic massage.
– Convenient Drying Stand
–  2 Clarisonic Cleansers; one for face and one for body
The Clarisonic Smart Profile will be available online at Clarisonic.ca beginning July 2015 for $299 and exclusively at Sephora.