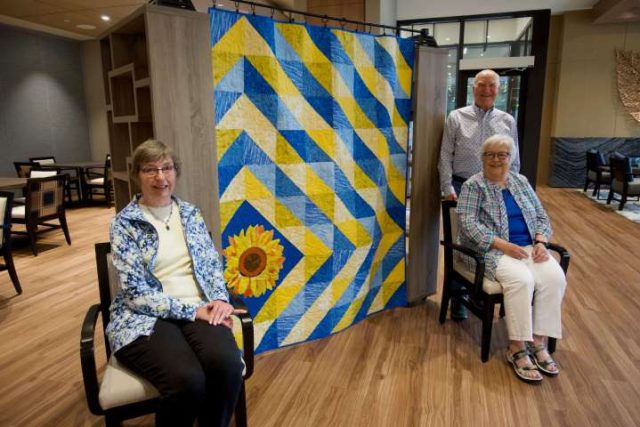 Residents at Tapestry at Victoria Harbour, an active aging community for seniors in downtown Victoria, are hoping their quilting efforts will help raise invaluable funds for displaced Ukrainians seeking to find peace, security and opportunity in our city.
Tapestry's residents have partnered with the Inter-Cultural Association of Greater Victoria (ICA) to support the settlement of Ukrainian Nationals seeking temporary residency in the Victoria region after fleeing their country following its invasion by Russia. To date, ICA has supported nearly 100 displaced Ukrainians who have recently arrived.
"Like many others, we were distraught watching Russia's invasion of Ukraine in late February of this year," says Angie Chan, a Tapestry at Victoria Harbour resident. "Out of love and compassion for these displaced people, we felt we had to find ways to help them feel welcome and secure."
The resulting 'Patchwork of the Heart' quilt is a spectacular tapestry of blue and yellow, weaving in the colours of the Ukrainian flag with an embroidered sunflower. The "Sip & Stitch" team of four residents spent an intensive three weeks completing the quilt. The group aims to raise $10,000 through the sale of raffle tickets with 100 per cent of the proceeds going to ICA.
"This initiative will directly support Ukrainians arriving in Victoria. Their needs are diverse and these funds allow us to be flexible in how we can best support as they settle into the community," says Meghan Mergaert, Director of Impact and Innovation.
Raffle tickets can be purchased from either employees or residents at Tapestry at Victoria Harbour or at the community's Concierge desk at 777 Belleville Street, Victoria, as well as in person at Tapestry's two Vancouver-based communities. Costs are $2 per ticket, $5 for 3 or $20 for a booklet of 10. Ticket sales will end on August 31, with the raffle draw taking place on September 1.
Tapestry at Victoria Harbour by Concert proudly fosters a holistic approach to active aging that inspires residents to remain social, healthy and engaged. The "Sip and Stitch" Club is one example of Tapestry's approach to wellness which inspires residents to create unique experiences drawing on their talents and interests, while engaging in meaningful and purposeful activities that enrich the broader community. This unique approach to wellness earned Tapestry at Victoria Harbour the 2021 Pinnacle Award, which recognized the community as number one in wellness among senior living communities in North America.
"The creation of this quilt is a tangible reflection of our commitment to wellness," says Adena Waffle, Senior Vice President (Interim). "At Tapestry, residents have unlimited opportunities to participate in authentically-local wellness programs that help them live life to the fullest. By anchoring wellness into our culture and aligning to all 7 Dimensions of Wellness, Tapestry's residents exercise their bodies and minds, make meaningful social connections and contribute to broader society."
To learn more about the ICA's services, please visit www.icavictoria.org/ukrainian-response/.