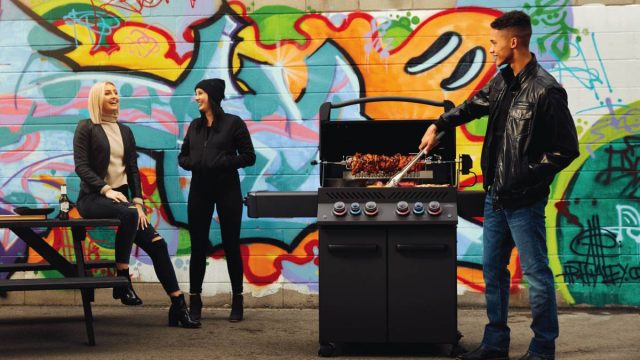 New for 2021, Napoleon will introduce the Phantom Series, a limited edition run of its Prestige 500, Rogue SE425 and TravelQ PRO grills in a silky, matte black finish with upgraded features including cast stainless steel cooking grids in Napoleon's iconic wave pattern, a multifunctional grilling rack and upgraded side burners.
To be launched in May, the Phantom Series will be an extremely limited run, only available in select stores in Canada and the United States. Pre-orders are available at napoleon.com. 
"With an exclusive and expensive look, matte black has become a symbol of luxury in consumer goods," says Stephen Schroeter, co-Chief Executive Officer of Napoleon. "In recent years, we have seen matte black super cars, high-end appliances and posh wristwatches hit the market. Napoleon Grills are renowned for combining form, function and luxury, and with a matte black finish, they are boasting a stylish and classy new look."
Like the original Prestige and Rogue models, the Phantom series editions feature an infrared rear rotisserie burner, infrared Sizzle Zone side burner, folding side shelf, Accu-Probe temperature gauge and dual-level stainless steel sear plates.
The Prestige has Night Light control knobs with a safety glow that indicates when the gas is on and a burner is lit, while the Rogue features backlit control knobs for late-night entertaining.
The cast stainless steel cooking grids on the Prestige Phantom and Rogue Phantom have a thicker grid surface for increased food contact and high-heat searing. Maintenance is easy and will last a lifetime; cast stainless steel is virtually indestructible.
The portable TravelQ PRO Phantom features dual stainless steel burners for direct or indirect grilling, a removable warming rack, an Accu-Probe temperature gauge, a porcelainized cast iron cooking grid and an easy-folding scissor cart.
The Prestige Phantom is covered by Napoleon's industry-leading 15-year bumper-to-bumper warranty on all parts — which covers every ignition system, burner, sear plate, knob, cooking grids and every other part right down to the tiniest screw — and a lifetime warranty on major components. The Rogue Phantom is covered by the 15-year warranty on all parts while the TravelQ is covered by a limited 10-year warranty. For more information, please visit www.napoleon.com.