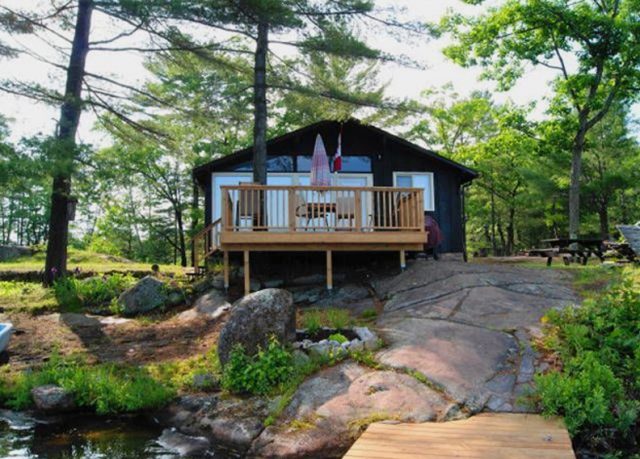 It isn't too early to get ready for summer –Victoria Day will be here soon, and everyone will be eager to enjoy everything they've missed since last summer! This is Toronto's unofficial start of the summer season, so brighten your cottage with fresh color, vintage solid wood furniture, delicate florals, and home accessories to dress up your space. Many people will be sprucing up prior to the May Long Weekend, whether with simple paint jobs or total room renovations; one is only limited by their imagination and budget.
A Splash Of Paint
One of the least time expensive ways to breathe life back into your cottage is with a little paint. A nice light colour will brighten your walls and give that fresh look associated with summer, or another option would be to take your paintbrush to the wood floors to create a whole new base to build on. Consider using large stripes of white and grey to give a small room the illusion of being larger.
Solid Wood Furniture
Solid wood furniture lends a vintage look to your cottage, assisting to create that feeling of timelessness. Maple, cherry, cedar or pine – these are all natural and sustainable materials to look for when you are looking for new pieces to add or to replace old ones. Solid wood lasts for many years with proper care – just stop by the Woodcraft Blog to learn some basic furniture care steps – and even though this may on the more expensive end as far as redecorations go, consider it an investment you will probably never need to replace.
Some Well Placed Textiles
Add pops of color and mix patterns with throw pillows, or lightweight throws draped across one corner of a reading chair. Small colourful rugs in front of sinks, doorways or the fireplace lend another layer of comfort, and new lampshades are another easy way to add color to a room. White or light coloured slipcovers for furniture pieces or bedding can be another easy, fairly inexpensive way to get a whole new look, as white gives any room a light, airy appearance. Pair it with another neutral or a soft color from nature, i.e. sage green, sky blue, for an easy summer style. Consider using slip covers for your dining room table for a new look.
That Weathered Look
You can achieve a "new" look using a small sander to give a weathered appearance to occasional tables, chifforobes, or kitchen cabinets. A cottage should evoke warm and cozy feelings and seem as if time has stood still, just waiting for you to come again, inviting you to relax and recharge. Of course, with this one, don't take your sander to anything nice (especially not the aforementioned solid wood furniture!).
If you have the good fortune to live in or near Toronto, you have several excellent choices of retailers for beautiful solid wood furniture, colourful textiles and interesting paint colours. Mix the new with the old for a beauty in contrasts.