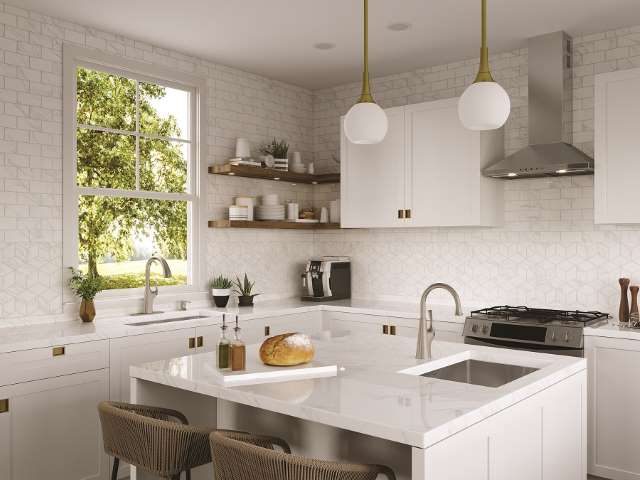 Across Canada, real estate markets are heating up.
Some surveys have found the COVID pandemic has caused more people to want to move away from urban centres to areas where they have more property. A study by the Ontario Real Estate Association found interest among renters who want to buy a home has doubled during the pandemic. We are also in a market where interest rates are low and house prices are rising.
It has created a market that has been blistering this summer.
If you are considering putting your home up for sale, Pfister offers a few tips to get it ready to showcase to prospective buyers:
Start on the Outside — First impressions matter. Spruce up the curb appeal of your home by weeding the garden, tending to the lawn and giving a fresh coat of paint to peeling or aged looking items like the front door or window trim. Outdoor living spaces are also in demand. Do some touch ups in the backyard and put out some patio furniture to assure buyers they will be able to use the outdoor spaces of the home.
Smarten Up — In the technology age, more prospective home buyers are looking for a connected home. Consider upgrading to a smart thermostat, smart locks you can monitor and control with your phone and other automated features like remote light and air conditioning controls.  
Freshen Up — A few quick changes in the bathroom can be transformative. Changing the sink faucets and showerhead, with coordinated accessories like towel racks and hooks, will give your bathroom a fresher, more modern look. 
Kitchen — The kitchen is the most important room in your home, and can make or break a potential sale. While a full-blown kitchen renovation is likely not on the table as you prepare to list your home, you can give it a quick update with a few small changes. Cabinet hardware can be easily swapped out for something more contemporary, lighting fixtures can make a dated design look more modern and a new faucet can bring style and function to the sink area. Pfister's TopPfit innovation makes changing faucets even easier, with most of the work done above the sink, and less time spent crawling under the counter.
Make it Functional — Today's younger home buyers aren't looking for wasted space. They want rooms that have a purpose. If your home has a formal living room, add a stocked bar cart so they can visualize it as an entertaining space, or add some stocked bookshelves to present it as a library. 
Overall, it's a good idea to make you house look lived in, but neat and tidy. When a buyer walks through the door, you want them to feel like this is the place they want to come home to every day after work.
For more information on Pfister Faucets, please visit pfisterfaucets.ca. Stay connected on social media by liking PfisterFaucets on Facebook, following on Twitter @PfisterFaucets and getting some great design ideas on Pinterest. 
For more information on Spectrum Brands, please visit spectrumbrands.com.