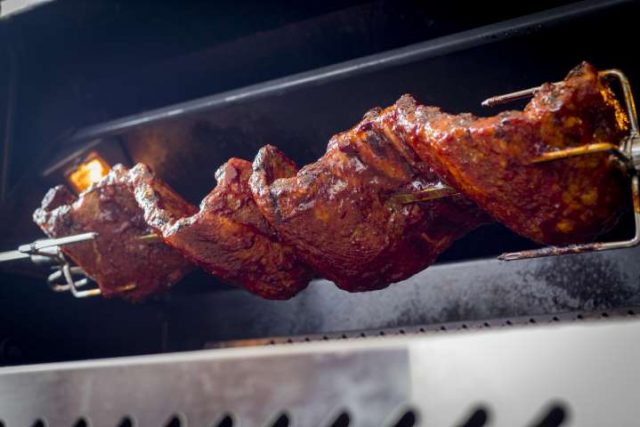 Amid the COVID-19 pandemic, with all bars and restaurants closed except for take-out and delivery options, Canadian families have been doing more home cooking — a look at Google trends indicates the number people conducting online searches for grills is higher than it has ever been.
But when it comes to grilling, there is so much more that goes into creating a great meal than just having a box that contains fire over which you can cook a meal. A Father's Day that better equips Dad for backyard cooking is a gift that will pay off for the entire family.
When thinking barbecue and Father's Day, Napoleon offers the following ideas:
New Q — The ultimate for Father's Day is a new grill, with all the latest bells and whistles. The upgraded Napoleon Rogue® brings style and functionality together, delivering restaurant-quality food to your backyard. Available with three, four or five burners plus a SIZZLE ZONE infrared side burner and infrared rear burner for high heat searing and slow roasting rotisserie, the Rogue® SE has everything you need to cook and entertain. It is flavour meeting convenience. It is also backed with Napoleon's industry-leading 15-year bumper-to-bumper warranty.
Rotisserie Kit — Healthy and delicious, there is little that can compare to rotisserie cooking, the meat slowly turning on a spit in front of an infrared burner, self-marinating for a tender, juicy finished product. If Dad's barbecue doesn't currently have a rotisserie kit, he needs one.
Rotisserie Basket — To go with the rotisserie kit, you need this basket. There is little you can't cook on a backyard grill and this grill basket makes it easier to expand your menu of barbecued foods. Made with food-grade stainless steel and adaptable to most rotisserie rods, the grill basket is ideal for cooking veggies, French fries, or chicken wings — without the addition of oil.
Charcoal Tray ‑ Even with a gas grill, Dad doesn't have to sacrifice the nostalgia and smoky flavours of old-fashioned charcoal grilling. A cast-iron charcoal and smoker tray turns any gas grill into a charcoal cooker. Simply insert the tray onto the burners of your gas grill, load it with charcoal and turn on the gas. Once the coals are glowing red, turn off the gas burners and enjoy some "modern" charcoal grilling.
Charcoal Smoker — A full sized smoker completes the grill enthusiast's yard. A charcoal smoker creates a true smoking experience, turning out tender and delicious cuts of meat, bringing new flavours to vegetables, and giving Dad more menu options when meal planning. Napoleon's Apollo® Smoker is a three-in-one unit, capable of being used as an old-fashioned charcoal grill, a wet smoker, or a dry smoker.
For more information, please visit www.napoleon.com.