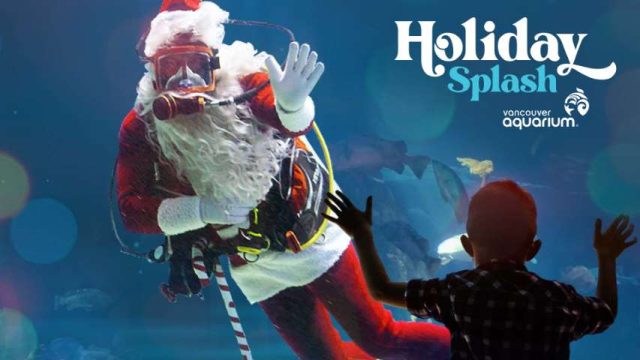 Oceans of holiday magic will arrive at the Vancouver Aquarium starting Saturday, November 12. Holiday Splash is pleased to see the return of Scuba Claus sharing the spirit of the season with some of our 65,000 incredible animals. Explore an underwater winter wonderland of twinkling lights and trimmed trees, where holiday favorites like THE POLAR EXPRESS™ 4D Experience® and our enchanting Jelly Snow Globe return to delight your whole family. Immerse yourself in the magic of the season with scrumptious treats and new festive animal programming.
The Jelly Snow Globe at the Vancouver Aquarium provides an opportunity for a unique family photo. The gift shop features local artists, including Indigenous artists and locally made products that are perfect for your holiday shopping. When visitors purchase a stingray stuffie from the Aquarium gift shop at 50 per cent off regular price, they will be donated to the Lower Mainland Christmas Bureau. Aquarium members will be offered a "Bring A Friend for Free" opportunity from November 12 to 20.
"This will be the most exciting winter event yet. With so many exciting things to see, you'll want to come back more than once. We are delighted to partner again this year with the Lower Mainland Christmas Bureau for a toy drive," said Vancouver Aquarium Executive Director Clint Wright.
"For over 90 years, the families we serve have felt the warmth of the holidays because of the shared generosity of our community through the Lower Mainland Christmas Bureau," says Chris Bayliss, Executive Director, Lower Mainland Christmas Bureau. "We are very grateful for the support we receive from community partners like the Vancouver Aquarium who, by hosting their annual toy drive, not only create a giving opportunity for their customers, but also demonstrate their willingness to give back to their community."
Another tradition returning to the Aquarium is its Marine Mammal Rescue Centre's Home for the Holidays, where a group of remaining animals are returned in December to their natural home. This heartwarming event reminds everyone of an Aquarium core mission, the Rescue, Rehabilitation and Release of marine mammals.
Holiday Splash starts on Saturday, November 12 so, don't miss out on the biggest splash of the season, plan your visit today at www.vanaqua.org/holiday.