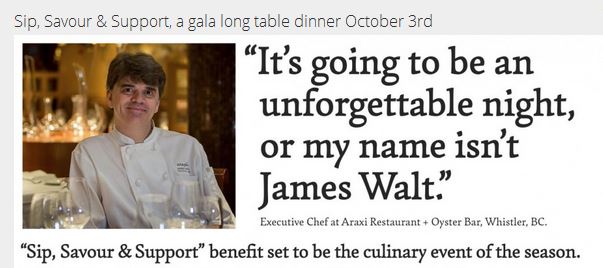 Foodies rejoice! The Savour Cowichan Festival is back again this year, bigger and tastier than ever before. If you haven't heard, Savour Cowichan Festival is a Southern Vancouver Island foodie love-in that celebrates the Cowichan Valley's vast cornucopia of locally grown and produced food and drink. Presented by the Mill Bay Marine Group, the ten-day affair gives visitors carte blanche access to more than 50 artisanal food and beverage producers, not only at the dozens of participating wineries, but at brew pubs, orchards and farms too.
Throughout the Festival, from September 25th to October 4th, guests can visit local operations, sample premier products and meet the experts who talk passionately about their craft, including master winemakers, brewmasters and sommeliers. Indeed, the best of Cowichan will be on the menu at tasting events, cooking classes, winemakers' dinners and demonstrations by top chefs in the area's finest restaurants.
One of the highlights of the The Savour Cowichan Festival is called "Sip, Savour & Support", a gala, long table dinner charity event that takes place on a floating barge in idyllic Mill Bay – just 40 km north of Victoria. Although a number of hockey legends and Olympians will be in attendance, the real star is the cuisine, which will be created by a dream-team of notable chefs, including chefs James Walt, from Araxi Group, Brock Windsor from Sooke Harbour House and Dan Hudson of Hudson's On First.
There'll also be live and silent auctions and entertainment by Vancouver's best dance band, the Famous Players Band. Chef Walt won't divulge exactly what the culinary dream-team is cooking up for the evening, but sums it up like this, "With the amazing supply of locally produced food and award-winning wine, coupled with great culinary talent and entertainment, I expect it will be an unforgettable night."
All proceeds from "Sip, Savour & Support" benefit the Canucks Autism Network, a non-profit organization that provides high quality programs for individuals and families living with autism in BC. There are only 200 "Sip, Savour & Support" tickets available, which are just $200 and typically get snapped up early. For more info, visit www.savourcowichan.com
For more information, please contact
Janet Docherty
Festival Chair/Media Liaison
Savour Cowichan Festival
E: janet@merridalecider.com
P: 1-800-998-9908